How to Backup and Restore Mikrotik Configuration Settings
It is Ops movement when you setup any router configuration and forgot login password and also did not backup settings. When you make a reset router you need configuration settings backup but you can't do anything now. The configuration backup important feature in every router or device to save your time for next time configuration. If you are an internet service provider you may need to configure Mikrotik router every time but if you use settings backup you can save 80% time used in the manual configuration. Always take configuration backup for any router or device which required configuration. In this post, you will get a simple manual to backup and restore configuration MikroTik Router settings from Winbox.
Taking Configuration backup will help you to reduce network downtime in case the failer of any hardware where configuration backup will help you. Just restore backup settings and manage a network without the downtime and struggle for configuration again and again while changing hardware.
The one more benefit of taking Mikrotik configuration backup is if unfortunately, you forgot login settings of the router that time you can factory reset Mikrotik quickly and restore it. To take Mikrotik Router OS settings back from Winbox need to login Mikrotik device from Winbox configuration utility.
Mikrotik Configuration Backup Steps
Open Winbox utility and login MikroTik router. Configure the router all settings and IP Address you would like to as per your network configuration.
Go to File option from the left side vertical menu.
Click the Backup button to save the configuration files inside router flash storage.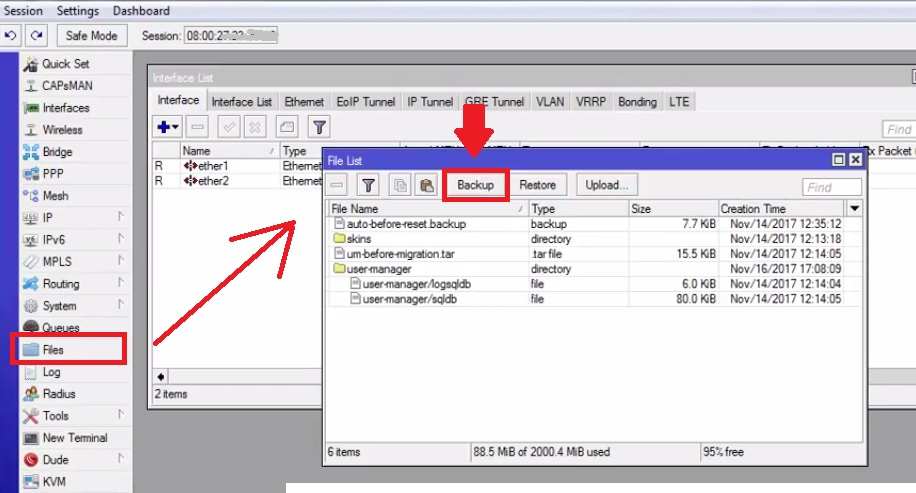 Give a name to Configuration backup file. You can use data with router name to identify backup while the need to restore it.
If you want to password protect your backup file to ensure only you can restore file then give password and press backup button to settings backup process.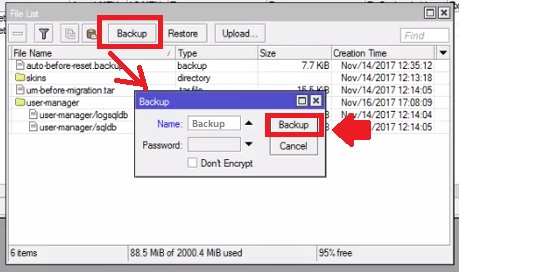 The configuration file will create inside the flash File folder as shown below image.
Select the file and click the Copy button or right-click on the file and click the download button to export the Mikrotik configuration backup file to PC.
Keep safe router settings backup in the safe drive so you can use it for restoration when needed.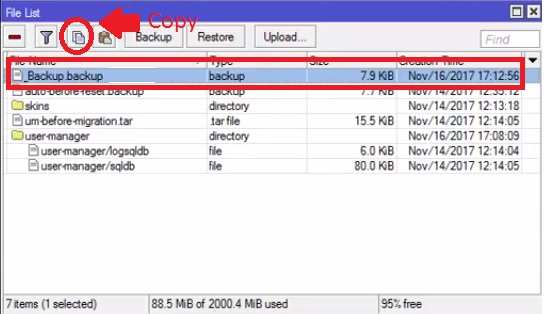 After download backup file you can restore settings any time in case you made router factory reset or purchase new MikroTik router.
MikroTik Configuration Restore Steps
After backup now restore steps are bit easy for the MikroTik router. Using the configuration backup and restore process yo can save 80% time compared to manual configuration for MikroTik router.
Connect New router or if you have made a factory reset now follow steps for backup restore.
Now Go to File for setting restore.
Click the upload button to upload the backup file from PC drive to MicroTik flash storage.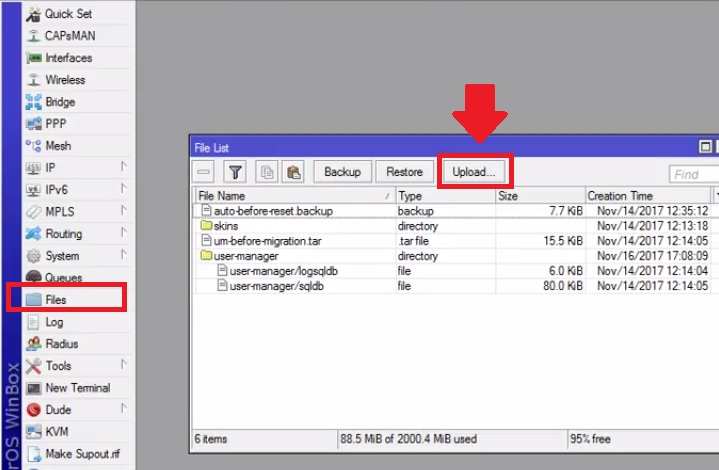 Browse folder in Hard disk you have saved the configuration file and click Open to upload.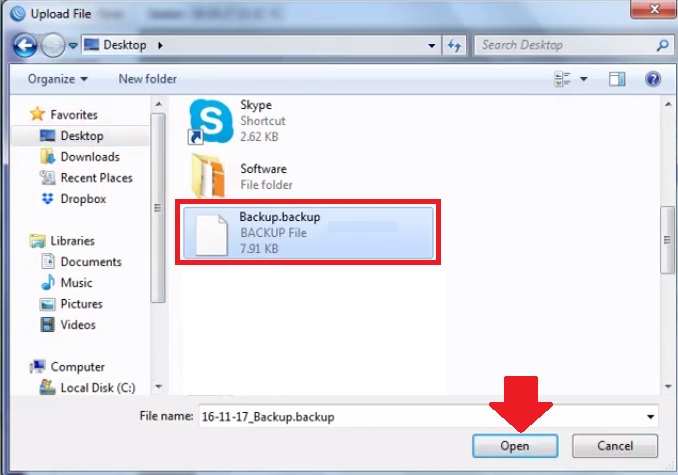 Mikrotik settings backup file will upload and reflect in the file list as shown below image.
Select file and click the restore button to apply settings.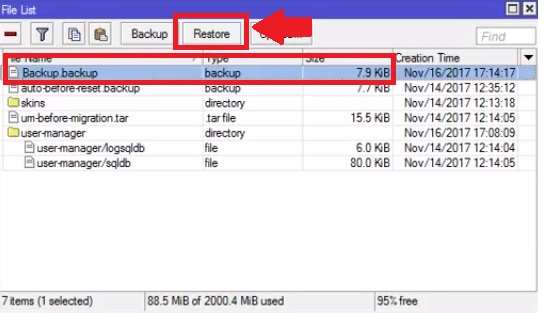 "Do you want to restore configuration and reboot"
Click Yes button.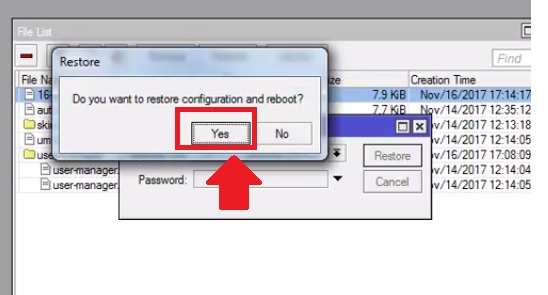 The router will restore configuration and reboot.
Winbox will disconnect once settings restore done and router rebooting.
Access router with restored settings details you have configured before backup files.
This is the simple and smart way to reduce network downtime in case failer of any Mikrotik router or installing new MikroTik router in the same network.
The Mikrotik settings backup and restore methods same for all Mikrotik router models. You can use this manual for backup configuration on Mikrotik RB2011, RB750, Basebox, Omnitik, and any MikroTik router comes with router firmware.
The other method is Mikrotik configuration settings back up and restores using commands.
Related Post