Netgear GS108TP Prosafe configuration & GS110TP Smart Switch Configuration Step to Step
Netgear GS108TP  ProSafe 8port Gigabit L2 managed switch is a semi-managed switch with 10/100/1000 8port Gigabit Port. It's best for managing the small network with VLAN and link aggregation feature to make Virtual link separation. Netgear switch gives you stability and a cost-effective solution. its web interface and discover tools make it easy to configuration of Netgear switches. This switch full of features recommended for stable and reliable network connectivity like Port speed control, storm control packet size control. Supported protocol STP (Spanning Tree Protocol), RSTP (Rapid Spanning Tree Protocol) and MSTP (Multiple Spanning Tree Protocol) for use ring for avoiding network down due to cable disconnection from single roots. You can use voice VLAN manually and auto voice VLAN configuration. In this post, you will get the easy guide for setup and configuration about Netgear GS108TP Prosafe configuration for your network.
Netgear GS108TP ProSafe Default IP Address and username password
For access Netgear switch you can use DHCP to discover tools from package CDs. Tools will discover switch auto and you can open it directly. if you want to access the switch without tools then you can use B mention from back side sticker.
Default IP: 192.168.0.239
Password: password
You need to configure your PC or Laptop LAN IP with 192.168.0.x series IP Address. Exp: 192.168.0.10.
See How to configure your Laptop/PC  LAN IP Address
Netgear Smart Switch Discovery in a Network with a DHCP Server
If you are using multiple Netgear switch in your network then Discovery tool will be useful for you to find your entire network switch automatically. This tool only works for Netgear Network Switches. You can download it from Netgear Official Website and also comes with CDs included with the Switch package.
Download Netgear Network discover Tools Free Now
After Download installs your tools in your PC/Laptop and Run tools.
How to Connect Any Wi-Fi without Password from Mobile?
You will find the Netgear Switch connected in Network with IP Address And Mac ID Details
Smart Control Center | Netgear Network Discovery Tools.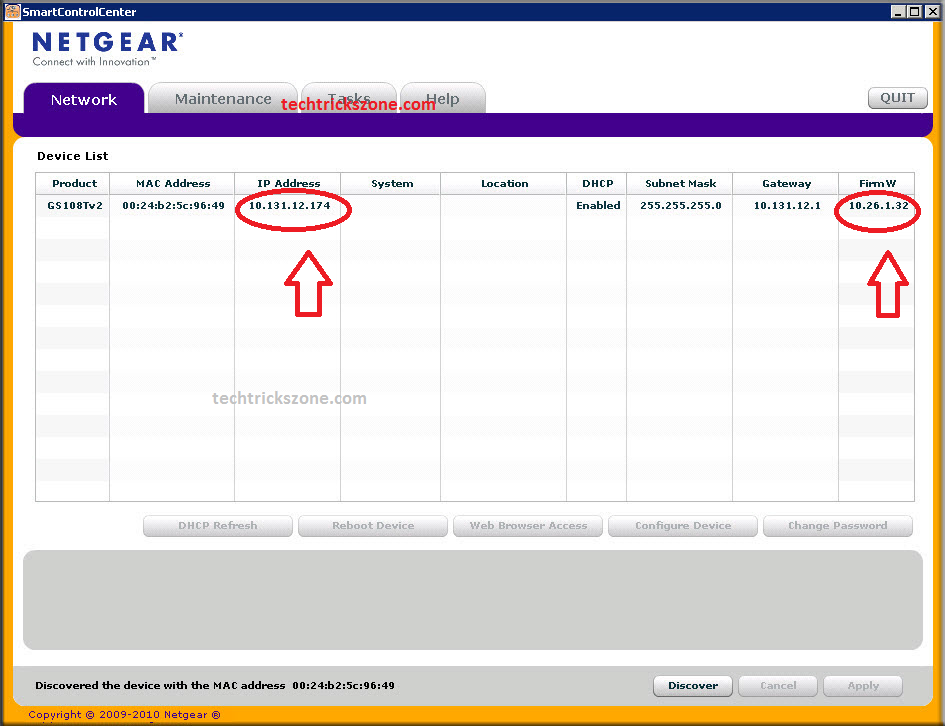 Smart Control Center Tools will fetch the Details of Product Model No.  MAC Address, IP Address, DHCP Status (Enable/Disable) Subnet Mask, Gateway, and Firmware Version of Products. These Tools Also discover Netgear GS110TP Switch.
 5 Best L3 Managed Network Switch for Small and Large Network
Netgear GS108TP  8-Port Switch Login with Default IP
For Access Switch with Static IP address, you required to connect your Netgear Network Switch any port directly to your Laptop/PC LAN port. Open Internet Explorer or Mozilla Firefox browser and type 192.168.0.239 (Netgear GS108TP Default IP) in the URL bar and hit Enter key.
Use Default password: "password" for login switch.

Netgear GS108TP v1 Switch Default IP Change.
After Login Device will show the System Information page. For change Switch, IP Address clicks on IP Configuration option from left side list.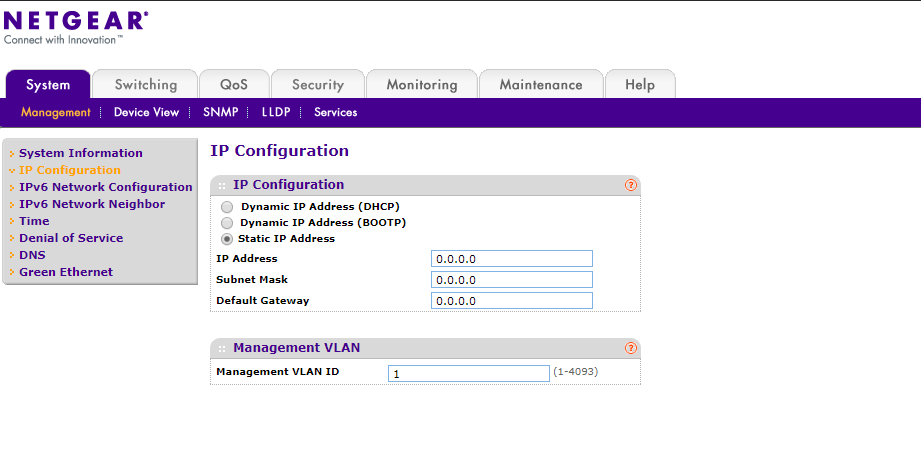 Choose option Static IP Address:
IP Address: use New IP here
Subnet Mask: Subnet Mask of New IP
Default Gateway: Gateway for new IP.
 The 10 Best Data Recovery Software for Windows, Android and Mac PC.
Netgear GS108TP Gigabit Switch VLAN Configuration.
VLAN (Virtual LAN)  let you option to manage your network with faster and reliable connectivity. You need to add VLAN first to create VLAN in your L2 Managed switch.
Go to Switching> VLAN > Basic >VLAN Configuration.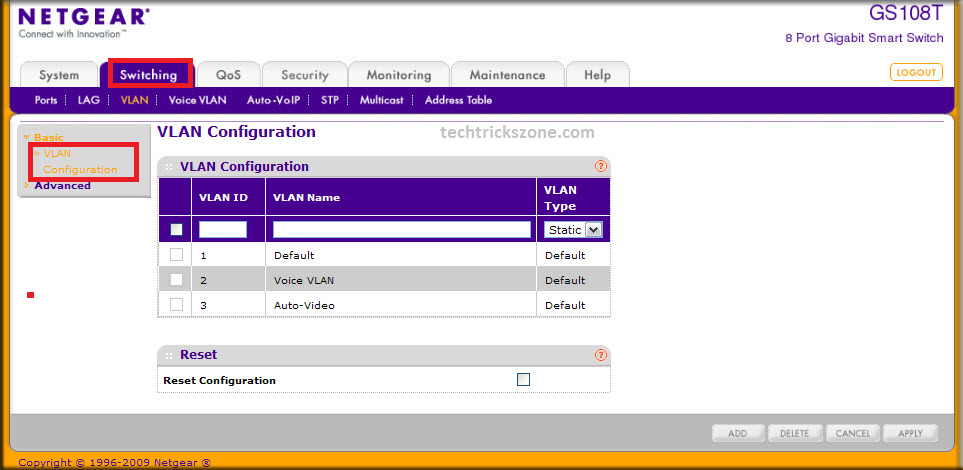 Add New VLAN in GS108TP/GS110TP
VLAN ID: use new VLAN id (1-4093)
VLAN Name: use VLAN name to identify your VLAN ID
VLAN Type: Choose VLAN Type (always will be Static)
Click ADD button from bellow Option and Click Apply to save the configuration.
Delete VLAN in GS108TP/GS110TP.
For deleting any VLAN select checkbox VLAN id you want to delete from List and Click Delete button from bottom Menu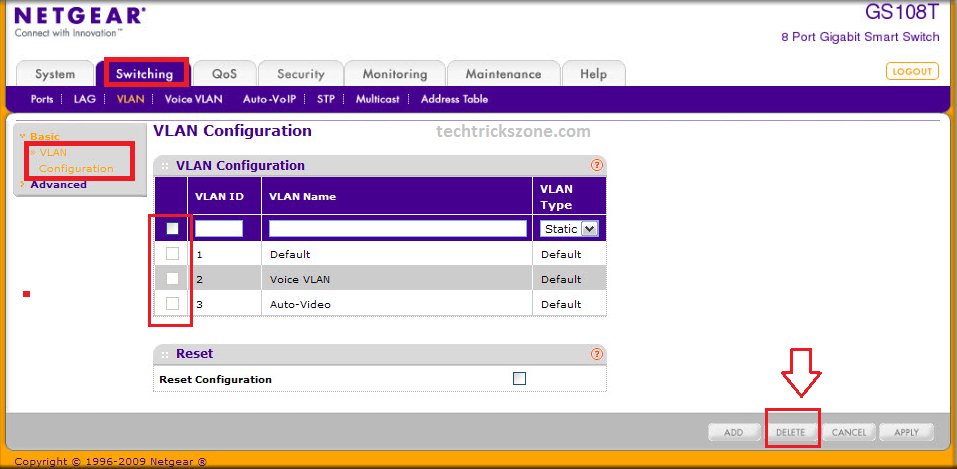 VLAN Membership Configuration
Adding new VLAN in Netgear GS108TP/GS110TP Switch configure VLAN Port Membership for a particular VLAN.
Click Switching>VLAN >Advanced > VLAN Membership.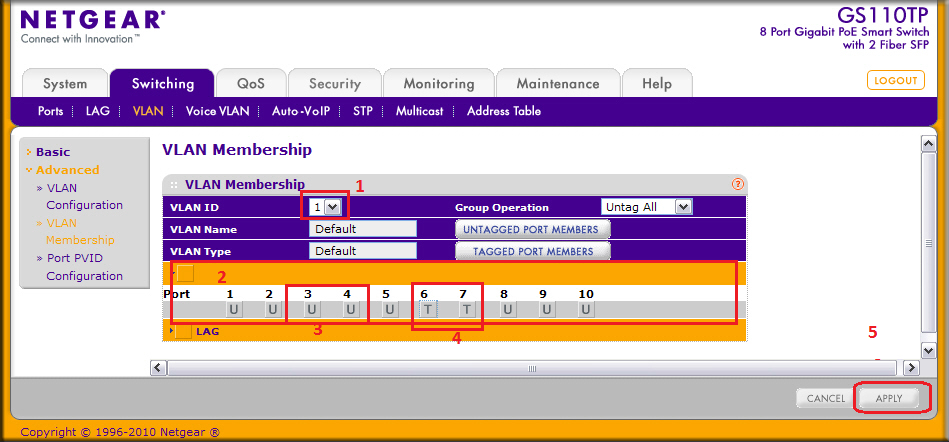 Adding VLAN Membership follow the steps given below
Choose VLAN if you want to Join Membership
Click yellow bar to open Port Physical Layout
U (Untagged) Choose U if you want to Untagged (Click Continue on the port to Change T and U )
T (Tagged) Choose T if you want to Tagged.
Click Apply Button to Save changes.
Netgear GS108T Port VLAN ID Configuration.
To configuring Port VLAN ID
Click  Switching> VLAN> Advanced > Port PVID Configuration.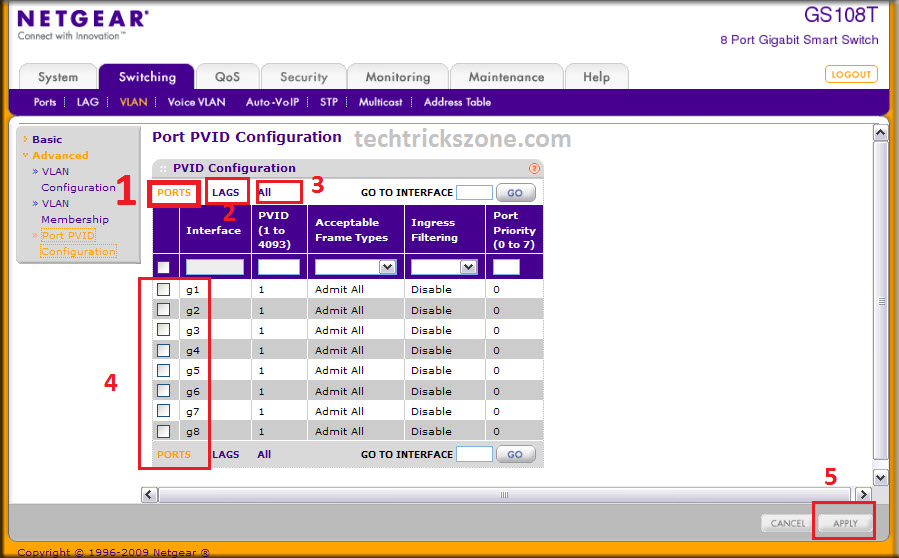 To configure PVID settings for a physical port, click Ports.
To configure PVID settings for a Link Aggregation Group (LAG), click
To configure PVID settings for both physical ports and LAGs, click ALL.
Choose Particular VLAN from List and configure settings below.
Acceptable Frame Type: VLAN only and Admit All
Ingress Filtering: Enable and Disable
Port Priority: 1-7 (priority assigned to untagged packets arriving at the port).
 Popular Post: Top 10 Best Open Source Network Monitoring Tools
Netgear GS108TP Voice VLAN Configuration.
Voice VLAN designed for Voice traffic comes from IP Phones to increase the quality of Sound clarity while data traffic follows with Voice traffic. follow Below step to see how to configure Voice VLAN in Netgear ProSmart Switch particular port and Auto Voice VLAN Configuration.
click Switching>Voice VLAN >Basic > Properties.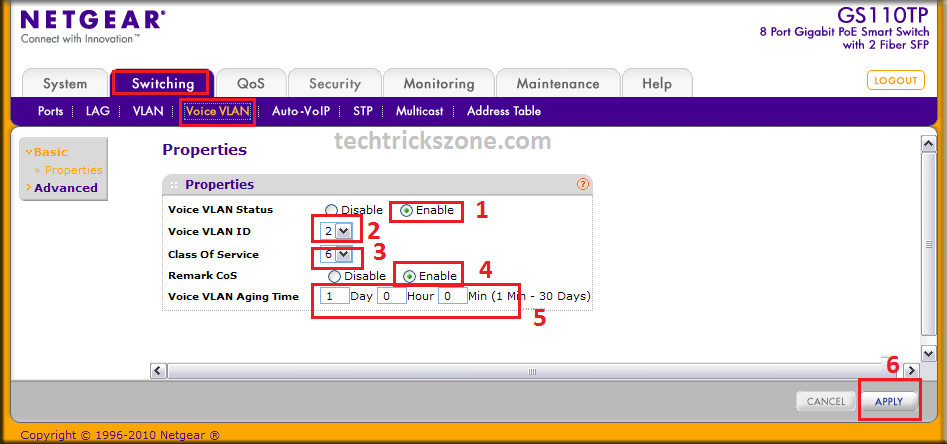 Voice VLAN Status: Enable
Voice VLAN ID: Choose the VLAN ID you create for Voice
Class of Service: choose Class of Service from List
Remark CoS: Enable/Disable
Voice VLAN Aging Time: set Time for VLAN Aging.
Click Apply Button
Netgear L2 Switch Voice VLAN Port Setting.
Switching>Voice VLAN> Advanced > Port Setting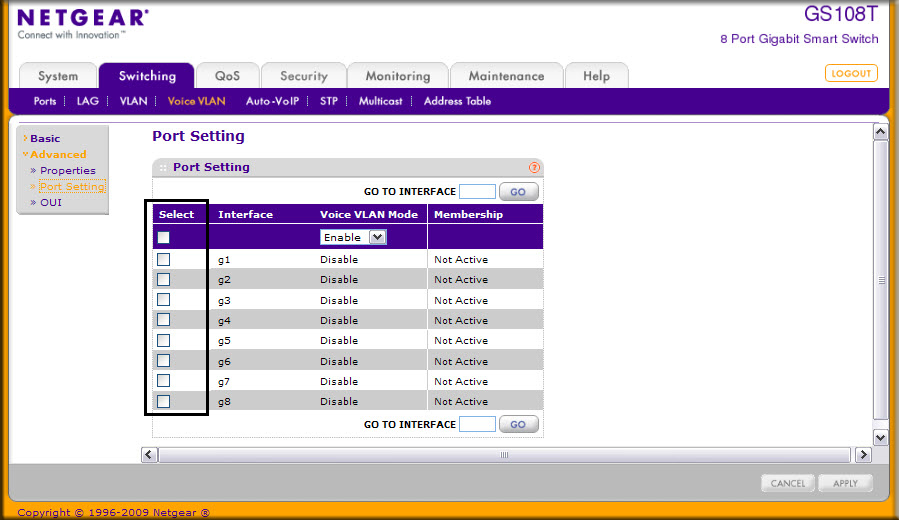 Select Port from the list and select Enable Disable from Voice VLAN mode to enable and disable Voice VLAN on Particular Port. You can select multiple ports to enable Voice VLAN settings.
ADD Voice VLAN OUI (Organizational Unique Identifier).
OUI stand for Organizational Unique Identifier to set a unique name to identify different I Phone brand name.
Switching> Voice VLAN > Advanced > OUI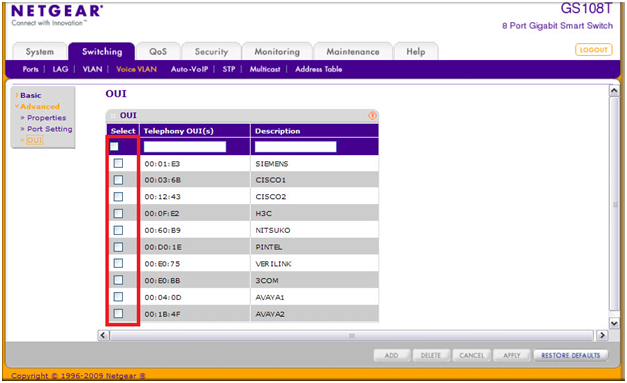 Select Port Number from list and type name in Description as seen above picture. Click ADD button from the bottom menu and apply settings for save changes.
Delete Voice VLAN OUI (Organizational Unique Identifier).
To Delete Voice VLAN OUI select port no from the list and click the delete button from bottom options bar and apply for save changes.
Click Restore Default to Preconfigured Voice VLAN OUI settings.
How to Change Default Login Password in Netgear GS801TP ProSafe  Gigabit Switch.
Click Security>User Configuration>Change Password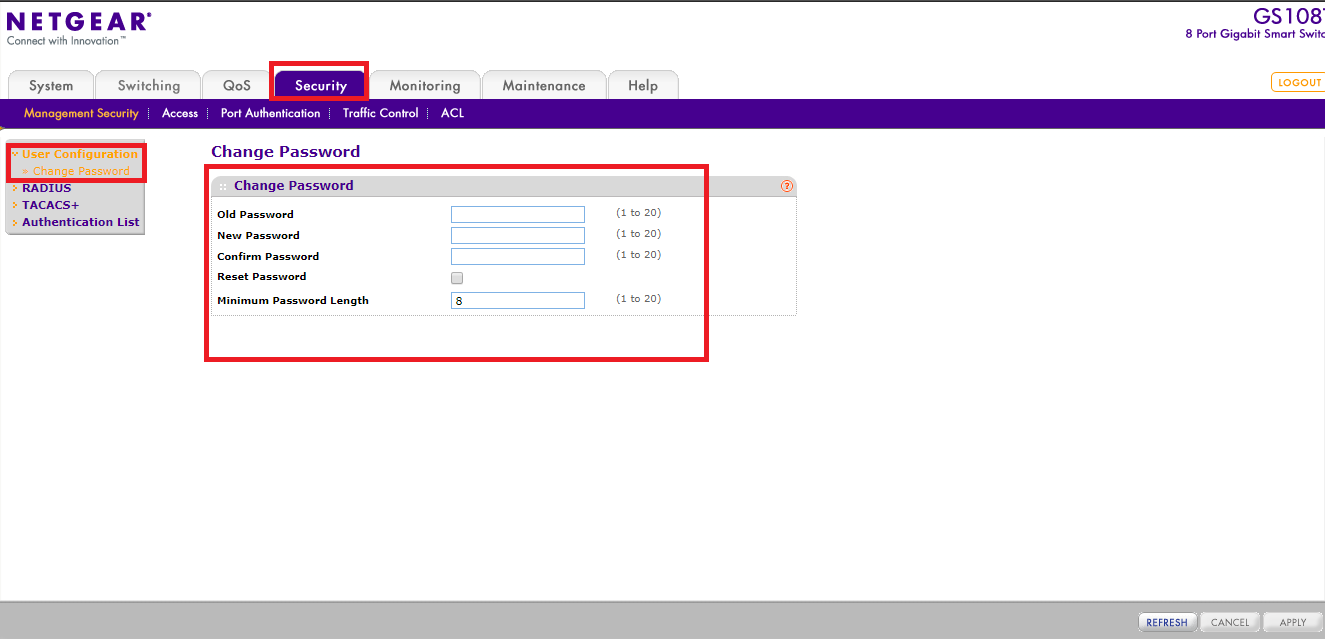 You will get the option given below.
Old Password:  (user your old password if its default user password)
New Password: Type new password here you want to set
Confirm Password: type new password for confirmation
Click the Apply button to save the change password. Re-Login Switch with the new password you have changed.
Factory Default of Netgear GS108TP and GS110TP Gigabit switch.
Making factory default any device there is two way
Hard reset

Soft reset.
Hard Reset :
Take Switch Physically in your hand make power on and press the left side corner small hole reset button for 5-10 seconds to continue. The switch will reboot and factory reset. See the image below the reset button.

Soft Reset :
Soft Reset stands for software reset. Restore the default switch from the web interface.
Click Maintenance >Reset>Factory Default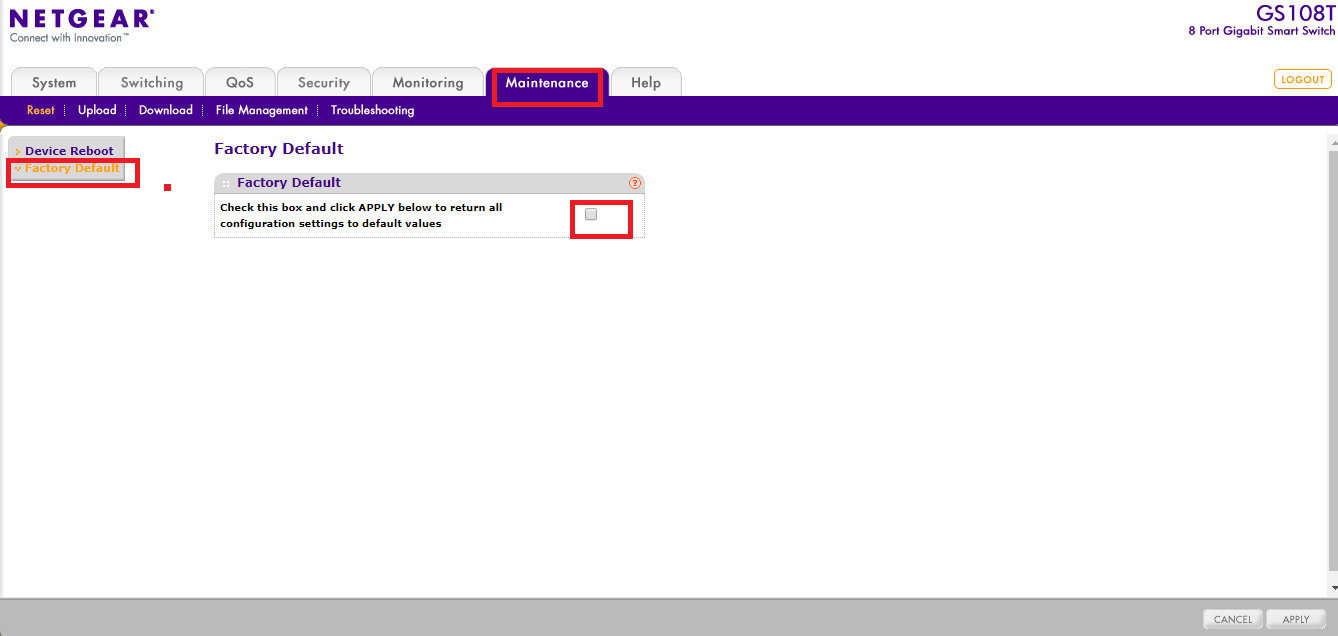 Click the checkbox and press apply button from the bottom menu bar.
The switch will reboot and you can access with default factory settings.
Related Post :
See Video: Netgear L2 Managed Switch Configuration Steps.