Apple Airport time capsule is an Ultrafast 802.11ac Wi-Fi with 2TB and 3TB hard drive capacity. Airport time capsule support dual band 2.4GHz and 5GHz band to provide you best internet speed and connection stability. Apple Airport wireless router best for home and office use to use backup solution as well as wireless connectivity with single device. Airport time capsule can be configured with airport utility which available for Mac OS and windows also.
Apple Airport time capsule gives your 1 Gigabit WAN and 3 Gigabit LAN to connect your desktop with wired connection. 1 USB port available for printer and flash drive share purpose with inbuilt power supply.
As the apple brand known as a secured product so you can use airport time capsule to make a secured wireless network. If you are a Max OS X user than its benefit for you to get your auto back from airport time capsule of your sweet memories and others files.
 Apple Time Capsule 2TB ME177HN Wireless Configuration
To configuration Apple time capsule required Airport utility from windows as well as Mac OS. You can download airport utility from official apple website.
With Airport Utility you can configure, manage your apple devices from windows and Mac OS.
After download AirPort utility follow the steps to configure your time capsule 2TB and 3TB.
After Download Airport utility install and see the further instruction for configuration process.
Apple Airport Time capsule 3TB Connection diagram.
To configuration of Apple time capsule required wired or wireless connection to Laptop or PC.  As shown below picture power on the Apple time capsule with power cable comes with box and WAN port connect to internet modem/router. You can connect Laptop/PC with LAN port or wireless connection.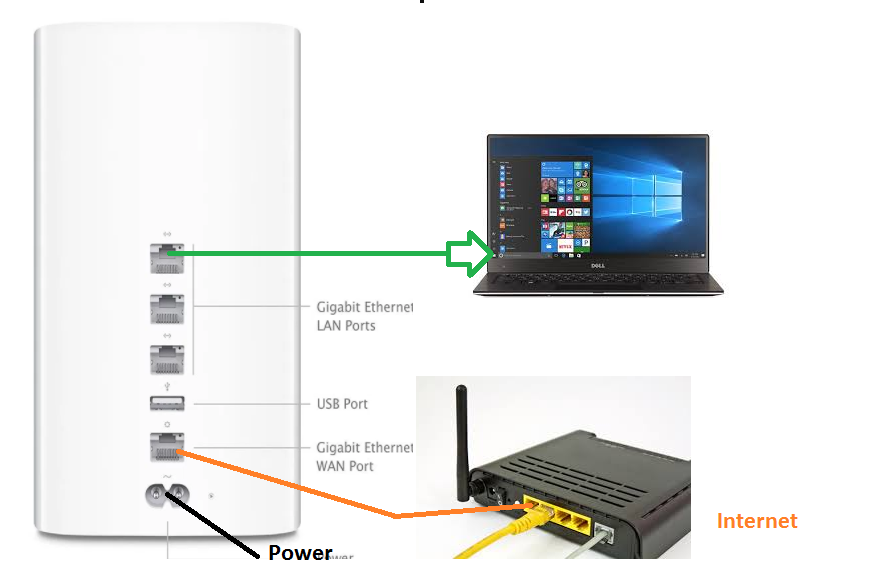 Apple Airport Time capsule 3TB Login with Airport Utility.
Once you have connected properly to time capsule than open airport utility, and it will take few second to detect your Time capsule device and will show IP Address and other device information.
1:- In status page you can see Device name, IP Address, Firmware version and Device MAC ID details.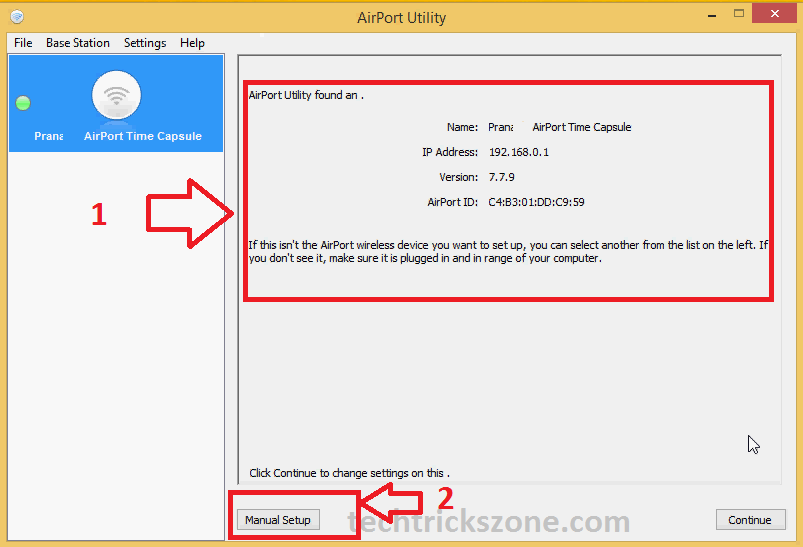 You will prompt for password enter option
Apple time Capsule Default password – admin
Use the admin password to login first time or use your changed password.
Click Continue button to login Apple Time Capsule.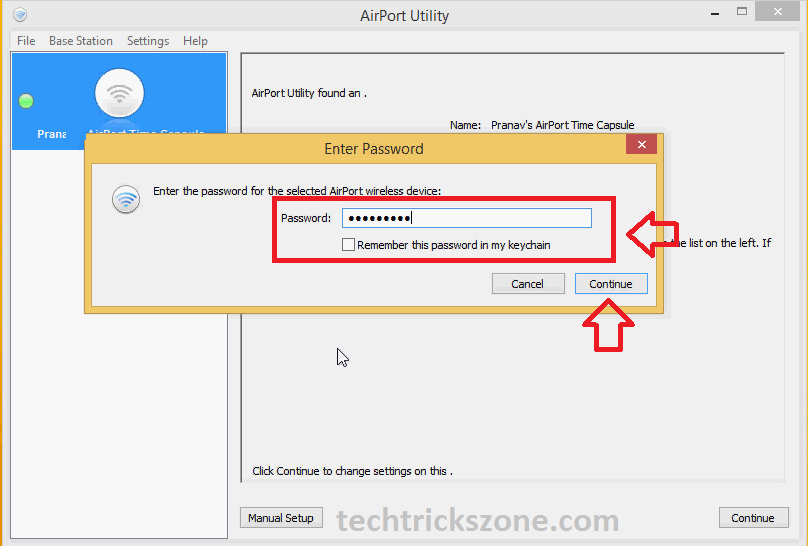 Apple Time Capsule 2TB Name and Login Password Change.
If you are going to install Apple time capsule first time, than you can change default time capsule name and login password to keep protect your device.
Go to Summary tab to change name and password.
1:- Name – change Name in this box
2:- Change password and verify password to confirm and avoid miss match.
3:- Choose the country to get right time zone for your device according to location.
Click Update button to save settings.
See Also High Quality (HD+UHD) Video Calling Messenger for Android, Windows,I Phones and Linux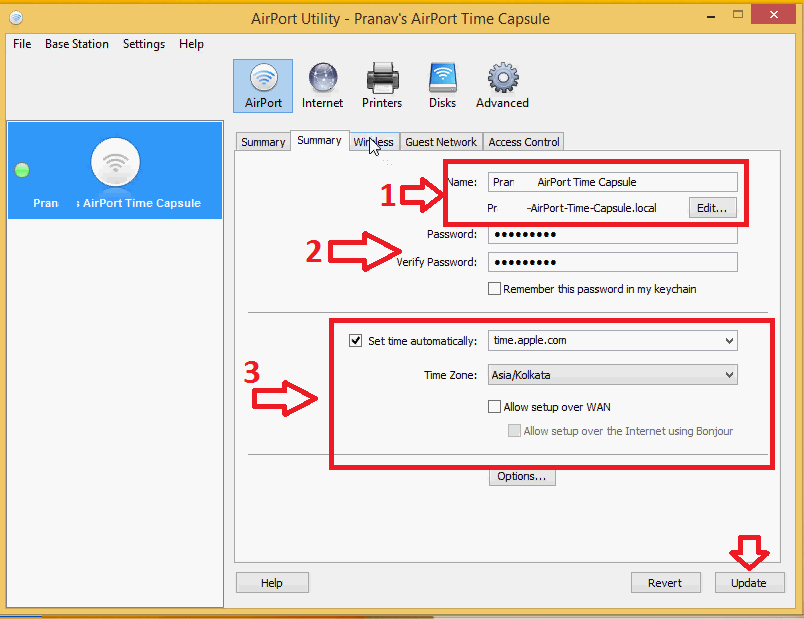 Apple Time Capsule 2tb Me177hn/a WAN Configuration for internet.
To configure Apple time capsule with your internet connection required WAN configuration. Connect you internet cable to WAN port and configure the WAN setting according to your internet provider internet settings.
Go to internet icon on top list
Click the TCP/IP tab
Configure IPv4- choose the your internet connection type
Exp- if your ISP given your static IP or PPPoE than select Manualy option and choose Static or if your ISP given PPPoE user name password than select pppoe from list.
Click Update button to save changes.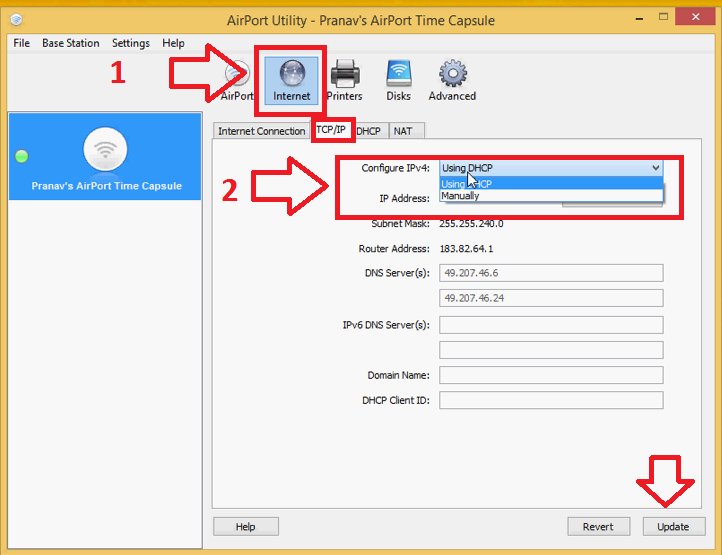 Apple Time Capsule 2tb Me177hn/a Wireless configuration.
Second steps is configuration of wireless to change default wireless name and password. Always change default WiFi name and password to keep safe your WiFi internet from unknown access.
Go to Wireless tab inside Airport option.
1:- Wireless Mode – to create wireless network use this option.
Wireless Network Name- use your Apple time Capsule Wi-Fi name here
Radio Mode- keep this option automatic.
2:-  Radio Channel  Selection – If you are using more than one Wireless device in same place than choose manual option and set the channel number manually to avoid interference with other Wi-Fi network.
3:- Wireless Security – Recommended is WPA2PSK
Wireless Password– type Wi-Fi password here
Verify Password – type password again to confirm.
Click Update button to save settings.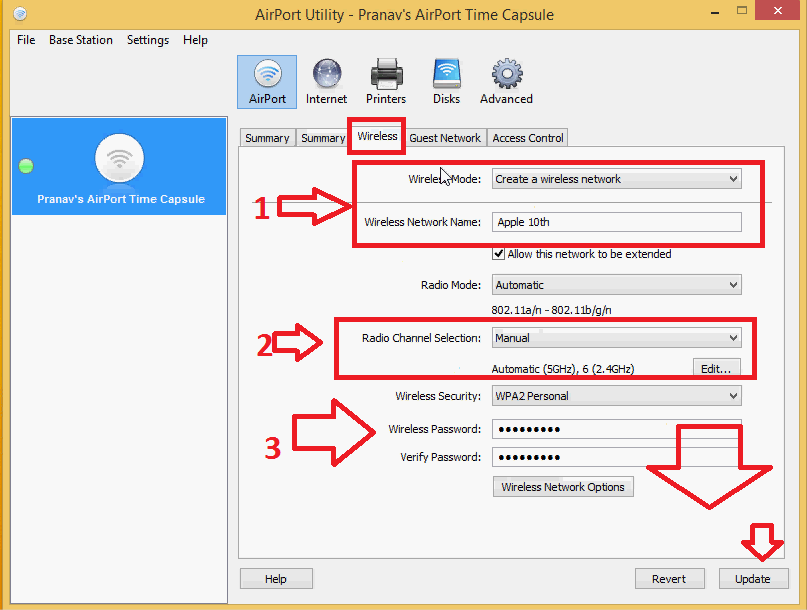 Apple Time Capsule 2tb Me177hn/a Guest Network Configuration.
You can enable guest wifi network on your apple time capsule device for temporary internet access. If you have configured guest network than you no need to share your main Wi-Fi password to anyone just give guest network and keep protect your Apple Time Capsule device.
Airport- Guest Network
Enable Guest Network option
Guest Network Name– Use Guest Wi-Fi name in this box
Guest Network Security– type guest Wi-Fi password in this box.
After done click update button.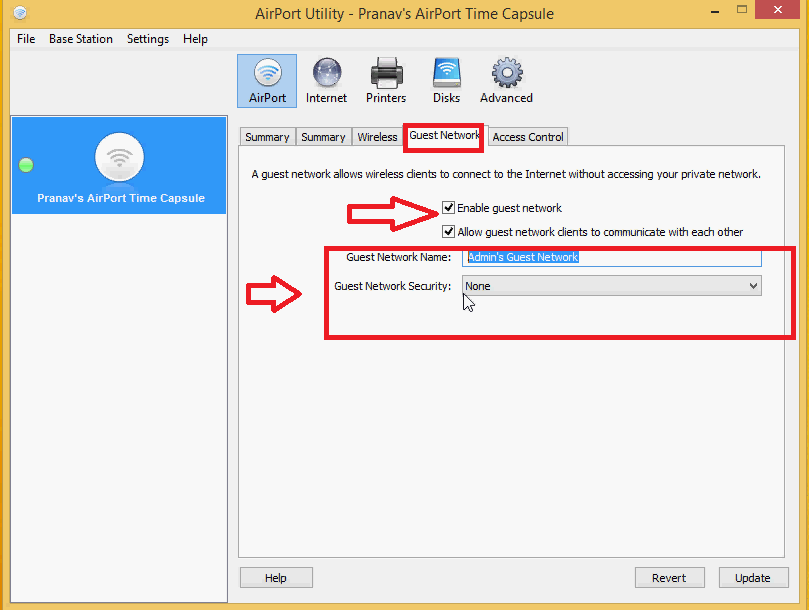 Apple Time Capsule 2tb Me177hn/a DCHP Configuration.
To DHCP configuration on Apple Time capsule device after login go to
Internet- DHCP tab
1:- DHCP beginning Address- use the IP Address you want to start for DHCP
DHCP Ending Address – use the last IP Address you want to use in DHCP
DHCP Lease – you can increase lease time as
2:- DHCP Reservation – if you want to reserve any IP such as printer IP address or any other server IP address you can put the IP address in this box.
Press Update button to save settings.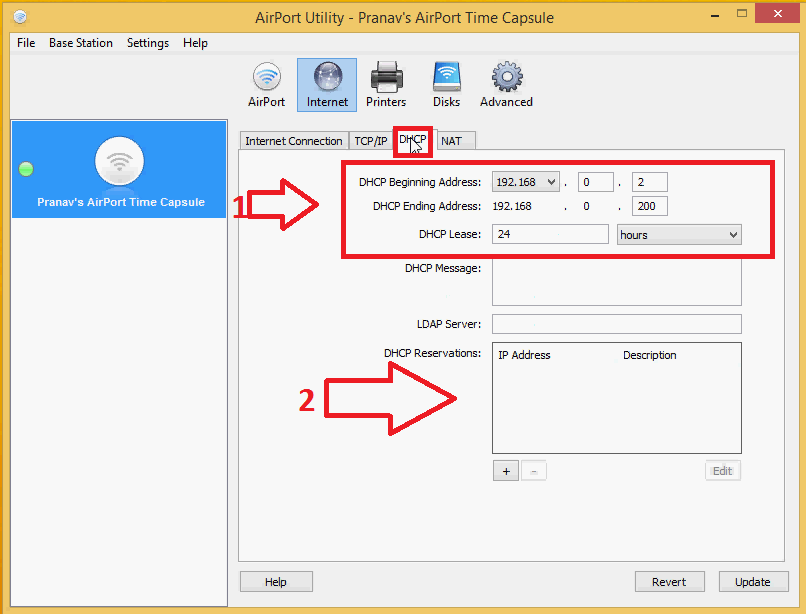 After doing this all the setting steps properly you can start using your Apple Time capsule router device.