CenturyLink router login with default IP 192.168.0.1
CenturyLink is a multi-service Provider Company that offer Internet service, Telephone, TV, Voice as well as cloud service. In an earlier post, we have published Comcast Xfinity modem login, and many other internet broadband service providers like century links. If you are using century link internet or telephone service you may need to login century link modem to change the password and do other configurations.
This user guide helps you DIY (do it yourself) process for century link login for the wifi router as well as a modem to customize settings. There are many different brands compatible modems and router available for century link service that is listed to the official website.
Some compatible century Link modems brand name as given below.
Zyxel Modem
Cisco
D-Link
Adtran C424G
Calix C844G
Westell 7500
And many third part modems.
Login into Century link modem for all brands is the same and this user manual will help you to log in your CenturyLink modem brand as given above.
Steps to CenturyLink Router Login
If you are using CenturyLink service you must have CenturyLink account login details that already configured with your CenturyLink modem installed at your premises.
Connect your Centurylink modem using wired connection or wireless. Default WiFi SSID name and password printed over Centurylink router modem backside. However, you can find the detail given below.
Default Login settings details for Centurylink Zyxel Modem
Default Login IP address: 192.168.0.1
SSID: CenturyLink0204
Security Type: WAP2-AES
Key/Passphrases: cqxtn5qkkzaus5
WPS/Pin: 55420525
GUI Address: 192.168.o.1
Admin Username: admin
Admin Password: Hadsee7j
Keep ready this default setting with you and follow the next steps to access the modem login page.
192.168.2.1 Login Admin username and password
Access Router Web interface
Open web browser and access default IP address http://192.168.0.1 and press enter key to load router page.
Modem GUI Login
Administrator username:  printed to your modem sticker
Administrator Password: same printed to router sticker.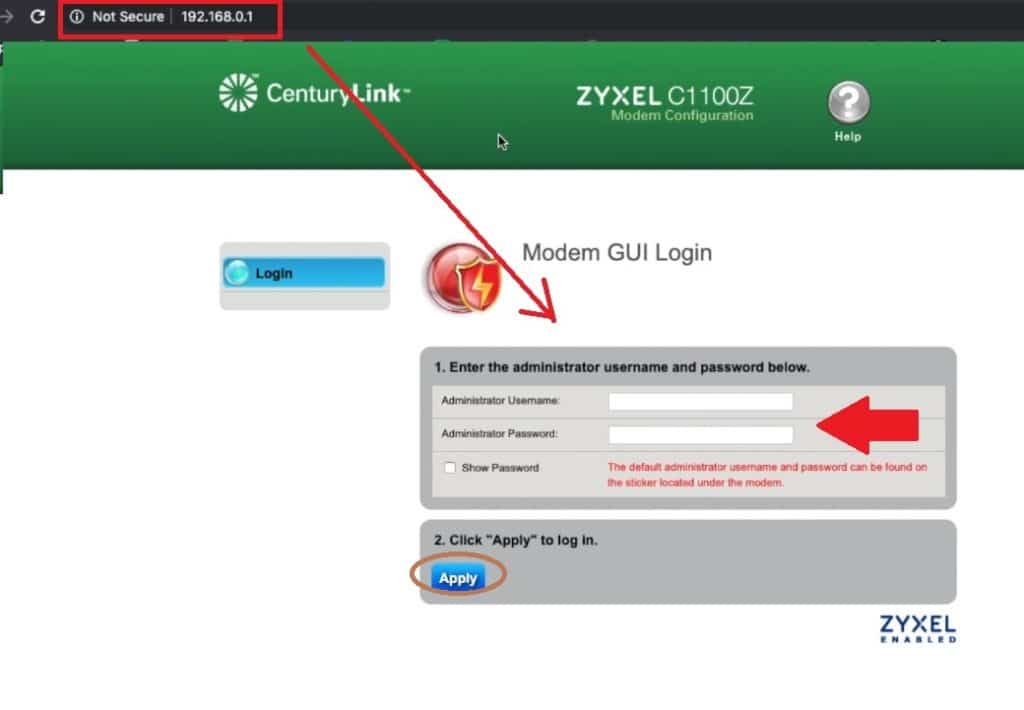 Use your CenturyLink router login details and press the apply button to proceed.
Once you are entered into the router control panel you can find a dashboard for all settings.
Change WiFi SSID Network Name and Password
If you still running default username name that is printed to your router sticker, then you must update the default Network SSID and password to protect your WiFi from Others
From Zyxel C1100Z Modem Configuration Dashboard where you can find Modem status, Wireless Setup Utilities, and Advanced setups.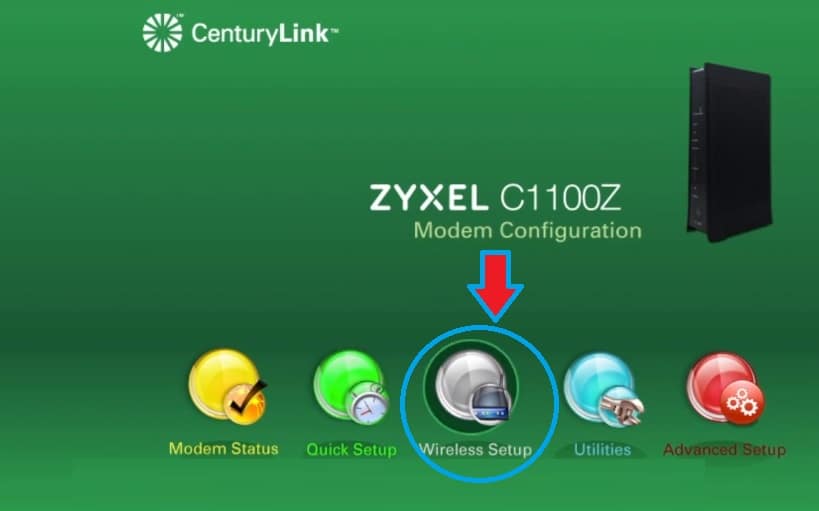 Go to the Wireless Setup option as showing the above image.
Wireless Setup- Basic Settings
1: Set the Wireless radio status: Enable (by default it is enabled Keep it)
2: Change the Network Name:  Centurylink2227 ( delete this name and create a new name for your Wifi network.
3: Apply button– Press Apply button to save settings and confirm change name.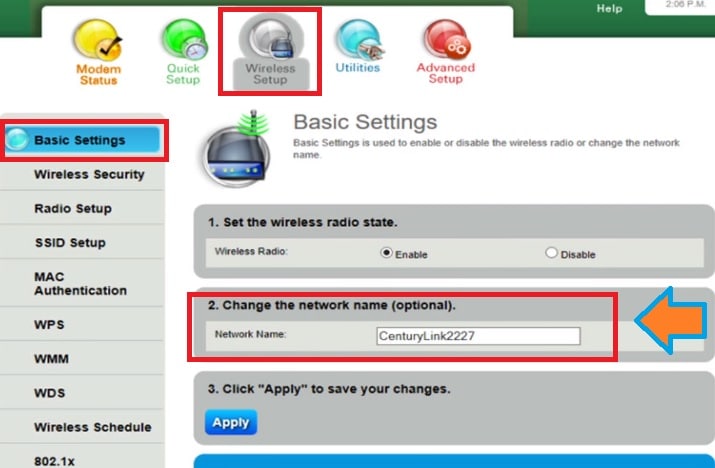 After changing SSID name next steps is update the default wifi password for the new network name.
Wireless Setup- Wireless Security
1: select the network name SSID: choose the SSID name you created for wifi
2: Security Type: WPA-WPA2 personal
3: Select the Encryption type: AES
4: Enter Security Key passphrase: Centurylink-WiFipassword (create a strong alphanumeric Wifi password for your wifi)
5: Press the Apply button to confirm password change for the new Wifi network name.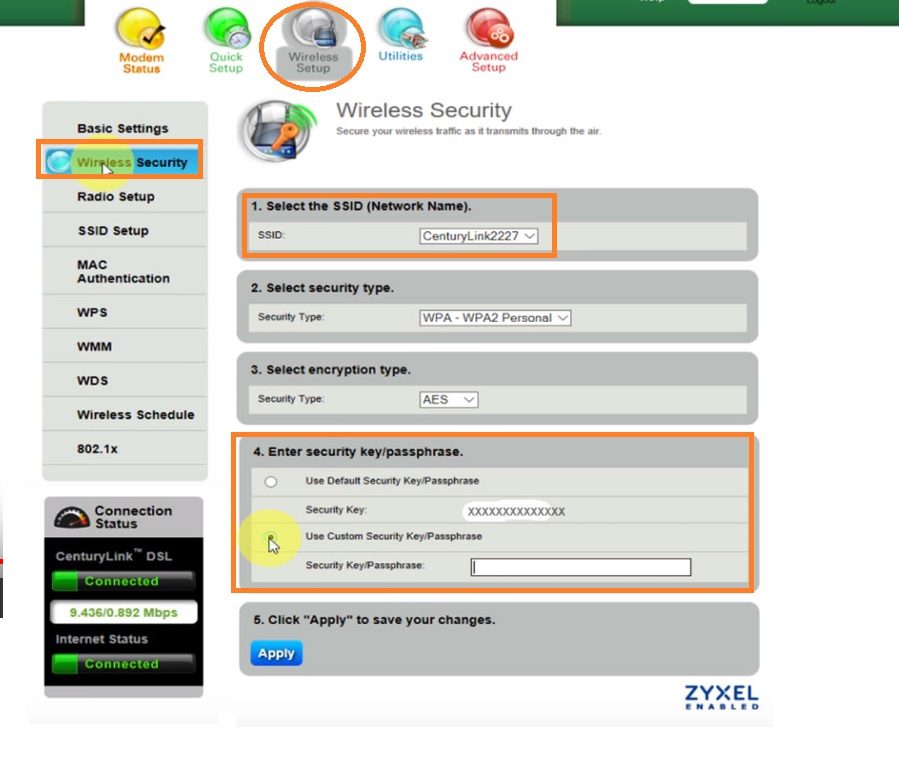 You all mobile, laptop and another WiFi device will disconnect from wifi because default SSID and key changed. Connect again with a new name and password and login again to change the administrator login password.
How to change CenturyLink Admin Password?
As every router default admin login password and username printed to the router itself and easily available over the internet so it is highly recommended to change login password as well.
Change century link login admin password go to Advanced setup option from the dashboard.
Advanced Setup- Security Settings- Administrator password.
1: Set the Administrator Username and password State.
Administrator password: Enable
2: Enter an administrator's username and password.
Administrator username: admin
New Password:  Make a new login password for your modem.
Confirm password: type new password again to confirm.
3: Apply button to save settings.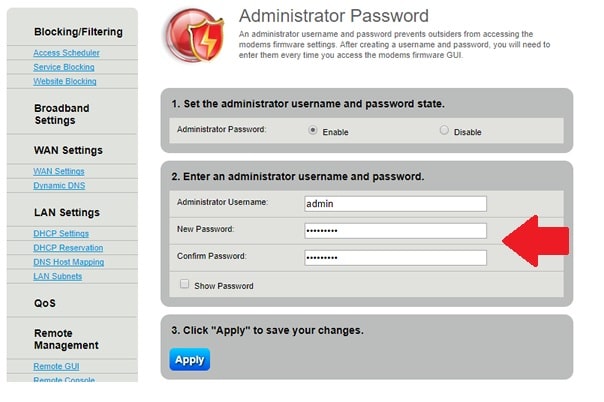 You can also customize other security settings like LAN IP address, Port forwarding, Parental control, DMZ settings, Enable remote management and more useful security settings available with your CenturyLink routers.
Basic Troubleshoot for Centurylink modem
If you are unable to access the CenturyLink business login page or default login IP address 192.168.1.0.1 not working it means a lot of reason behind it.
1: Network configuration- make sure your Pc/Laptop LAN network settings configured as DHCP mode. (Obtain an IP address automatically)
3: Default Log in IP Address belongs to router LAN settings: Make sure default login IP printed to router sticker already not changed with different IP Addresses.
Check the LAN IP address configured with your modem.
Open a Command prompt using the search start menu.
Type ipconfig in command prompt and hit enter key.
You will get network configuration details.
Find the default gateway IP address that will be your modem login ip address.
Wireless LAN adapter Local Area Connection* 14:
Wireless LAN adapter Wi-Fi:
Connection-specific DNS Suffix  . :
Link-local IPv6 Address . . . . . : fe80::24db:e13d:a3a8:df09%13
IPv4 Address. . . . . . . . . . . : 192.168.1.246
Subnet Mask . . . . . . . . . . . : 255.255.255.0
Default Gateway . . . . . . . . . : 192.168.1.1
If You forget the login username password after making change during the first time setup then the only way to access router settings in factory default.
How to Factory Default Centurylink Router?
Making router hard reset using the physical reset button available at the router is an easy and quick method to restore router settings to factory mode.
Power on Modem and find a small reset button option beside Ethernet ports.
Use any needle to press the reset button to make the factory default.
Press and hold the reset button for 15 seconds and release button once router rebooting.
It will take 3-5 minutes to complete the reset process wait until your router rebooting.
Now check default login IP address should work as printed to sticker.
Note: Make sure you have your account settings detail to configure your router again after making reset. Factory reset will erase all configuration settings configured with your router.
This user manual will help you to CenturyLink router login and change settings for modems belong to any brands.
Related Post