OpenWrt WISP Repeater Mode Setup 
OpenWrt is an open-source firmware developed for various brand routers. You can get rid of your router manufacturer firmware by upgrading OpenWrt firmware on it. OpenWrt firmware developed by a large team with many performance experiments to get the best result and make supercharge any brand routers. see the full user guide for OpenWrt WISP Repeater mode to boost WiFi signal range.
OpenWrt for those who not satisfy with their OEM router firmware and looking for the best stable and perfect performance with the same router. OpenWrt will supercharge your ordinary router performance with speed and stable connectivity of Wi-Fi. Try OpenWrt firmware and get seamless connectivity at every corner of the home.
Always Keep in mind before upgrading OpenWrt firmware to your Wi-Fi router make sure your hardware model supported with OpenWrt firmware, Wrong firmware can be damage your Router permanently so do it on own risk. There is also some best Captive portal hotspot login page supported with OpenWRT router to secure your WiFi internet.
This post Very helpful for who likes to use OpenWrt firmware for their routers, because here I am giving you completes configuration support for OpenWrt client router setup and configuration without any charges. Read the full article to understand the configuration of open Source firmware OpenWrt and DD-WRT.
What is WISP Mode in OpenWrt Router?
WISP full form "Wireless internet Service provider". WISP mode specially developed for the Internet service provider to provide internet over Wireless CPE. In WISP mode Wireless interface will turn into a WAN interface and Wireless device will work as a Wireless Client Router. In the WISP mode, the NAT feature will be enabled LAN interface will provide DHCP IP address. OpenWrt WISP Repeater also can use to extend wireless range in the no coverage area.
OpenWrt Router WISP Mode Configuration.
Before start configuration changes your PC/Laptop LAN IP with the same series of OpenWrt Default IP address. OpenWrt by default DHCP is enabled so you can also use DHCP in your PC/Laptop with changing obtain an IP address automatically option from LAN IP Configuration.
Default Ip- Address is 192.168.l.1.
Put Same Series IP-Address in Pc/Laptop (Ex: 192.168.l.254)
Open Internet Browser and type http//192.168.1.1 in the address Bar.
Default Username: root
Password: blank(no password)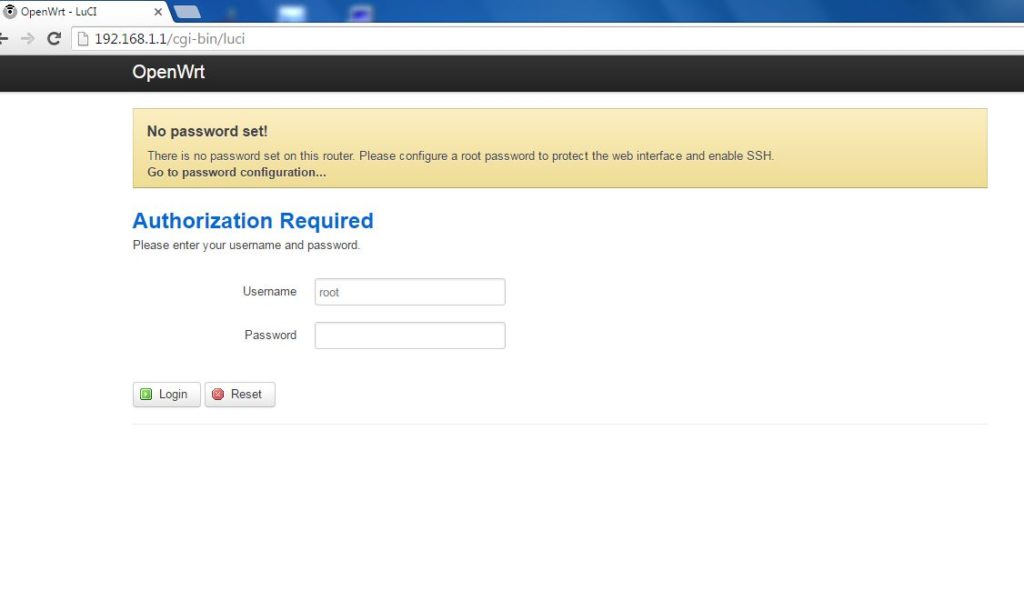 ---
Client Mode (WISP) Configuration
To configuring OpenWrt wireless configuration in WISP mode you should have an Access Point configured which will connect OpenWrt client-side device.
  After Login OpenWrt router sees the top option list and click on Network and then Wi-Fi option.
Go to Network –> WiFi
Click Scan Button
Click Scan button to find your Access Point

Find Your Network Name (SSID) and Click Join Network
You will get many wireless Network name if running in the same location find your Wireless SSID and click join Network button as shown given picture.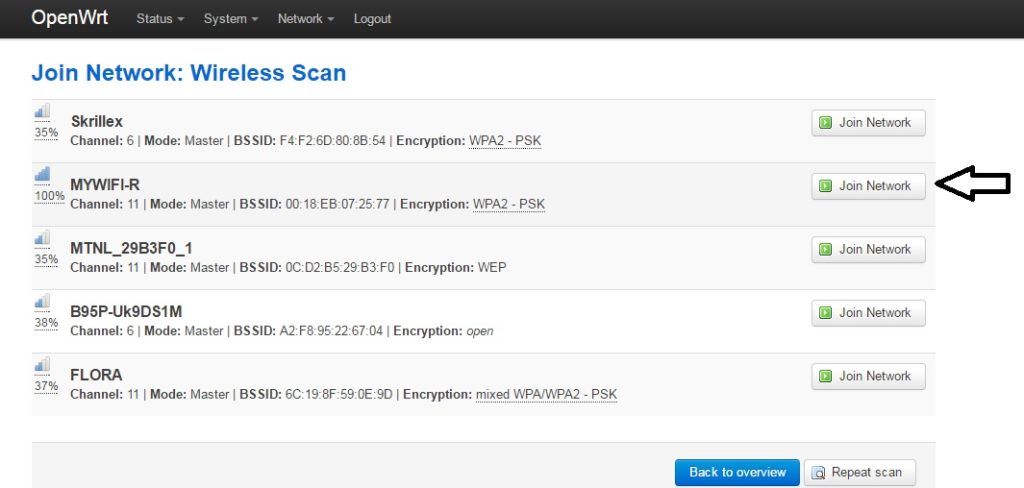 Enter Your Wireless Key (WPA-PSK)

If you have configured Wireless security in your Access Point you will get a WPA passphrase box to enter the wireless key. If there is no password set in Access Point this box will not show.

Use Any Name For New Network Name (Ex: in the picture I am using wwan) and Click Submit

The network name is just to identify the interface we have connected to Access Point.

The wan option should be selected to use WISP mode

Click Submit to go in the next steps of configuration.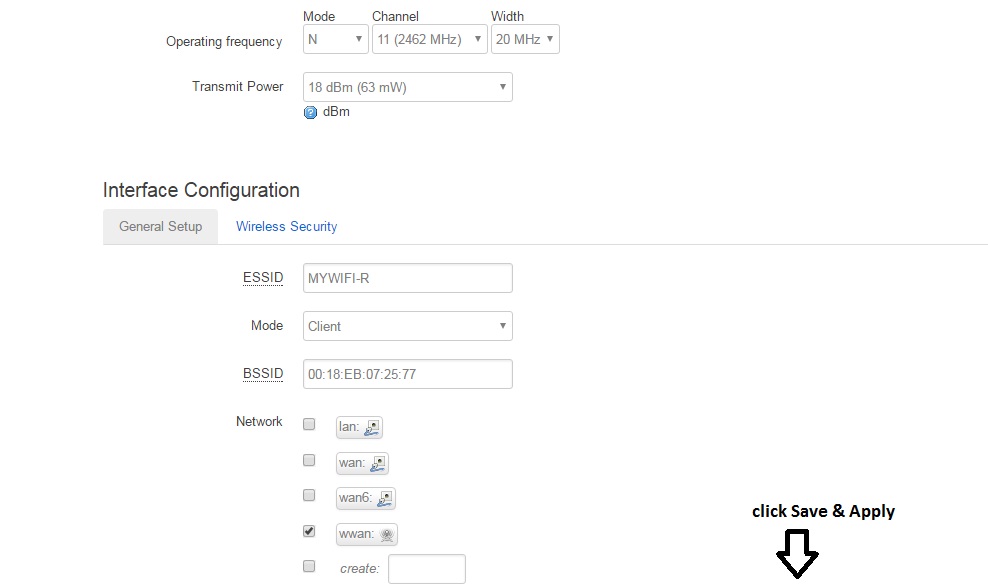 Operating frequency will auto-selected as per Access Point and ESSID will get from Access Point.
Click Save & Apply For Settings Changes.

Once you Client device connected to AP device then you have to configure the Wan interface to get the internet from the AP side.
If your Access point DHCP Disabled or you want to use the client as static IP/PPPoE then follow settings below.
Configure as the Static mode in WISP router:
After your OpenWrt Connected to AP device go to Network and interfaces option to configure Static or PPPoE mode for the wan interface.
In the WISP mode WAN interface will you have a given name during connecting it to AP device. In this device, my Wireless WAN name is Wwan so we have to configure PPPoE or static IP in this wan interface.
Edit wwan interface to get IP address mode option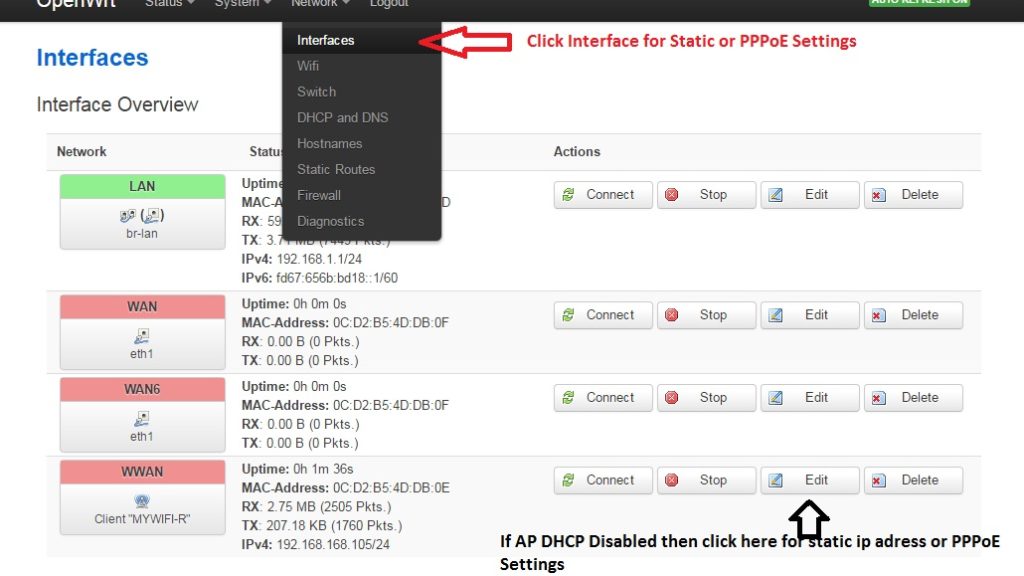 Select Static /PPPoE or Dynamic as per your requirement and click Switch Protocol below.
Choose static if your internetworking as a static IP. Choose PPPoE if you are using PPPoE server to connected clients.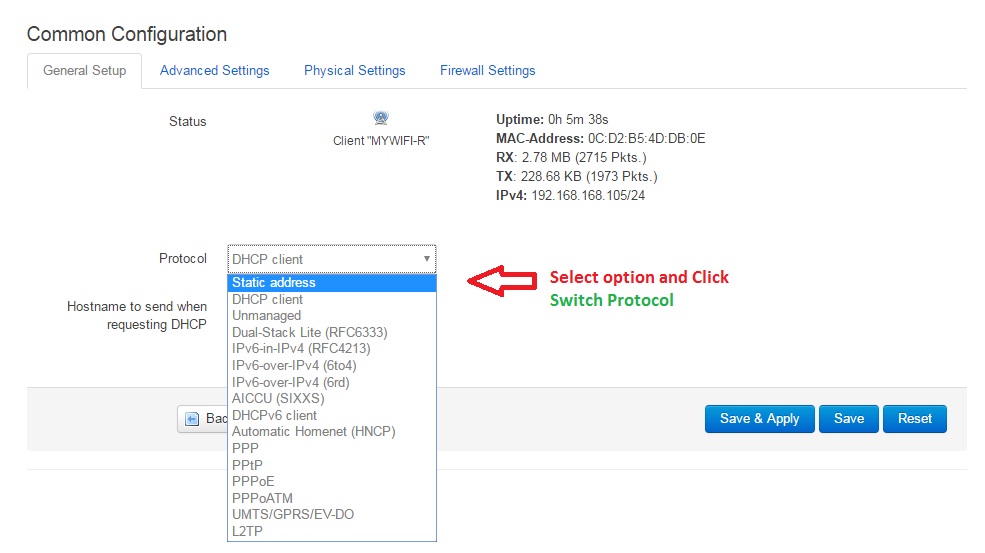 Select the Static address and give the internet IP address as per your network configuration.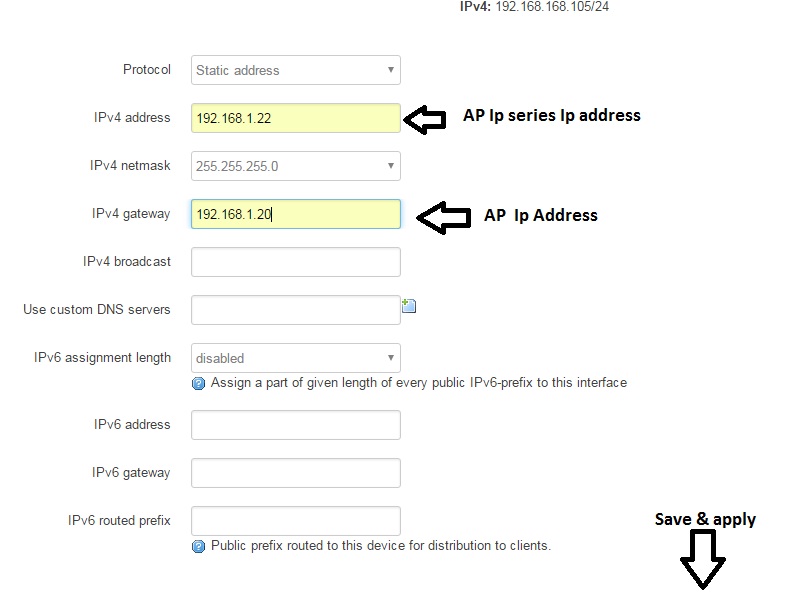 Protocol: static address (or PPPoE /DHCP)
IPv4 address: use internet IP Address in this box
IPv4 Netmask: In this box, the subnet mask will use as per your IP series.
IPv4 gateway: use your internet gateway in this box.
IPv4 broadcast: leave it blank
 Use custom DNS server:  you can use more than one DNS server. Click the + button at the end of the box to get more DNS options.
IPv6 Assignment length: IPv6 will be disabled it is only for use IPv6 version.
OpenWrt LAN IP Change
if your internet gateway already using 192.168.1.1. IP than change your client IP address to 192.168.1.l to any different series.
To change LAN IP in OpenWRT router go to Network – interfaces
Click the green color LAN interface Edit button.
You will get default IP 192.168.1.1 change the IP address in this box and click Save apply button.
After apply you have to use a new IP series configuration in your PC/ Laptop to access the OpenWRT router again. If your laptop already in DHCP mode then your LAN will auto-assign the IP address of the new series?
After Rebooting Device change Your PC/Laptop LAN to DHCP mode and check the internet.
If you are facing internet limitations and no connectivity then makes sure you used the correct IP address on the wan configuration.
Congratulates you have successfully done your OpenWrt Client Router Setup and configuration with few minutes!
Related Post