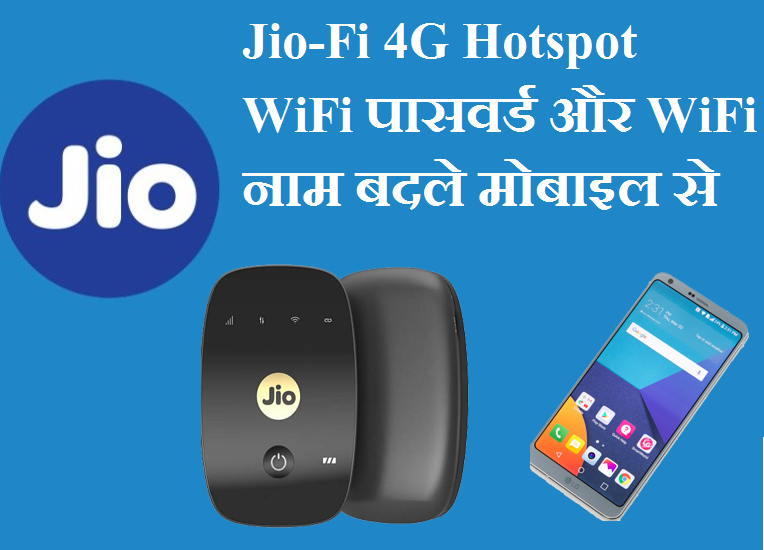 Jio-Fi Hotspot Router Change Wi-Fi Name and Password from Mobile
Jio one of the most popular telecom company in India with vary short period. Initially on launched Jio gives free unlimited voice and internet plan to every one without charging anything. Jio Network  gives you internet and voice service with VoLTE technology and today every one has a VoLTE supported 4G smart phone.This post specialy for jio user who looking for  manual of How to change the JioFi password without laptop and computer.
As Jio network completely a 4G network so its not supported by old 3G and 2G handset users and it can be make a week point to lose the old network users. So to keep all 2G, 3G and 4G costumers in Jio Network, Company also provide a hotspot 4G router which called Jio-Fi. JioFi is nothing but a portable hotspot Wi-Fi router with 4G supported network for prepaid and postpaid sim. If you are using a old 2G, 3G mobile phone so its also be a question that how can use 4G internet speed in your 2G and 3G smart phone. Jio-Fi hotspot router is the answer because you can use up to 10-20 user to jio-fi hotspot router to make our old handset still work on 4G network.
What is Jio-Fi Hotspot Router?
JioFi is a portable hotspot 4G router with battery and sim slot. JioFi comes with different model of 4G router as per plan and user supported. You can only use Jio prepaid and postpaid both type sim in JioFi. It has model number JioFi JMR540 is suitable for 10 Wi-Fi user and 1 USB tethering.  JioFi M2S 4G hotspot router also suitable for upto 10 Wi-Fi user.4G portable  hotspot router comes with 2300 to 2600 mah battery backup which gives you 5-6 hour internet connectivity while traveling.
JIOFi LED  Display Indicator.
JioFi JMR540 model number comes with small led display for indication of 4G network signal strength, Battery status and Wi-Fi user connected to router. Led indication gives you easily find the best signal coverage area when using at home.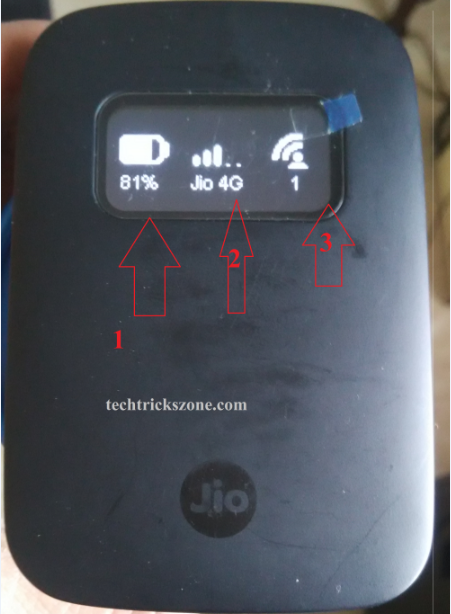 Hotspot Router Battery Charging status in percentage
Jio 4G network strength indication bar
Its show Total number of users connected in Wi-Fi.
JioFi JMR540 and JioFi M2S 4G Hotspot router Wi-Fi Password Change.
JioFi 4G hotspot router comes with default Wi-Fi name and password so its highly recommended always change default Wi-Fi password before using any of hotpsot 4G router.
default JioFi Wi-Fi Name – "JioFi_A421E3"
JioFi Default Wi-Fi Password –"hbtryu9psl"
Connect your mobile or laptop to JioFi with default Wi-Fi password. If you didn't find default Wi-Fi name you can see bottom of box or manual inside box to get default setting details.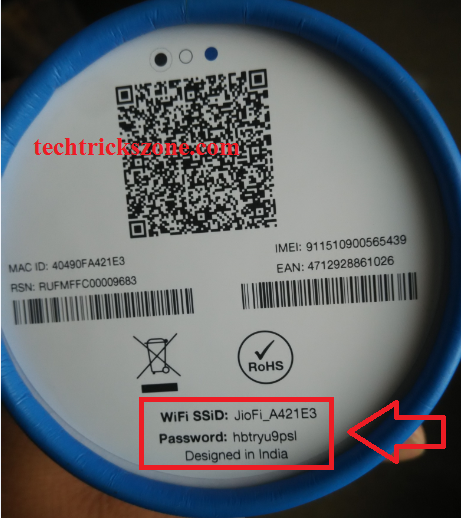 Login JioFi 4G hotspot router in Mobile.
Once you connected to JioFi 4G router from mobile or laptop than you have to open the default IP Address of JioFi router to make configuration changes.
JioFi default IP Address is 192.168.15.1    and JioFi default username and password is "administrator" to login router. If this IP address and username password doesn't work for your JioFi model number than see the user manual comes with your JioFi device Box.
Now open Browser such as Mozilla, Google chrome and open 192.168.15.1

Click Login option in right side top and Use JioFi default username "administrator" and jiofi default password "administrator to login Hotspot 4G router.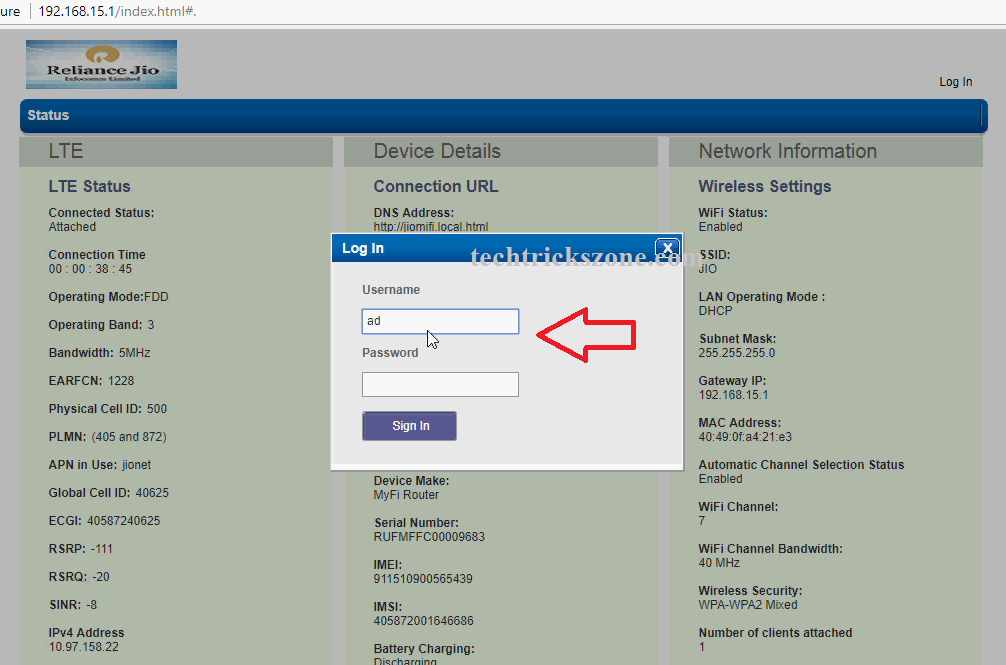 How to change the JioFi password
After Login JioFi 4G router to configuration of Wi-Fi settings go to Network option
Go to Network –WiFi Security Settings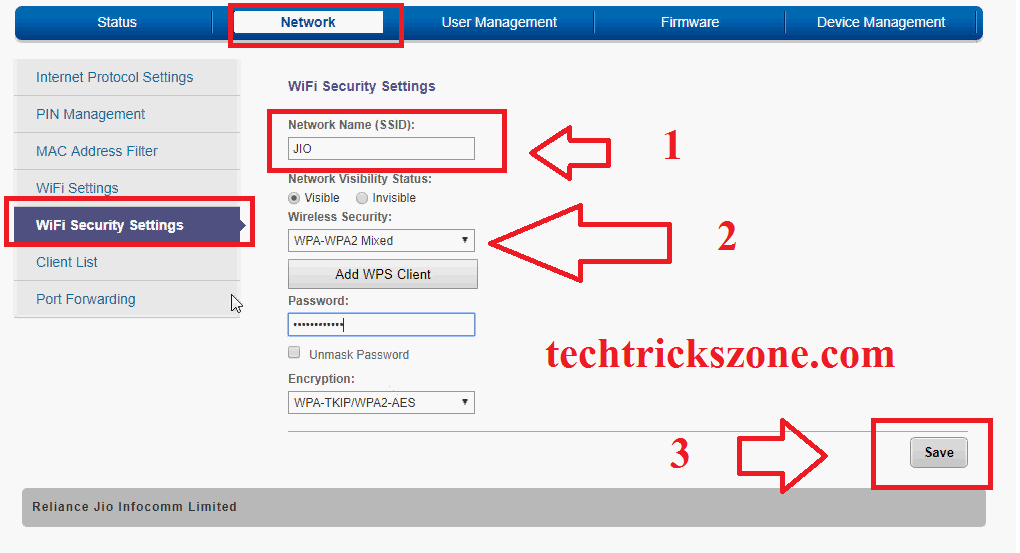 1: Network Name (SSID) – Type your Wi-Fi name in this box which will use to connect JioFi router from Mobile and Laptop to access internet.
2: Wireless Security – use the Wi-Fi password in this box. Always use alpha numeric and WPA/WPA2  PSK/AES security type to make safe your 4G WiFi network from hackers and others.
3: once you set the WiFi name and New password in your JioFi router click save button to apply settings. After click save button your mobile and laptop will disconnected from 4G router so reconnect your JioFi router with new WiFi name and new password.
JioFi 4G hotspot Router Change Default Login Password from Mobile?
You can change JioFi default login password as per your choice.
Go to User Management – Account Management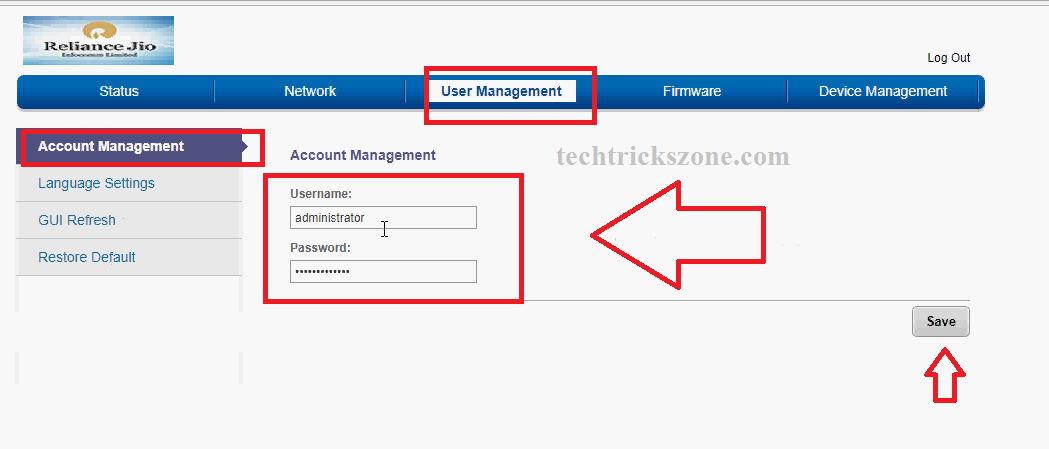 Username – default username box will not editable so you can't change username
Password- type new password in this box. These passwords only use for login router settings for configuration purpose.
Click Save button to apply settings
JioFi 4G router Mac –Access list settings.
Mac access list use to add extra security in WiFi network. Enable Mac access list Wi-Fi will only allow to connect if we added Mac address of that user in Mac access list.
To enable and disable Mac access list login Hotspot 4G router first.
Go to Network- MAC Address filter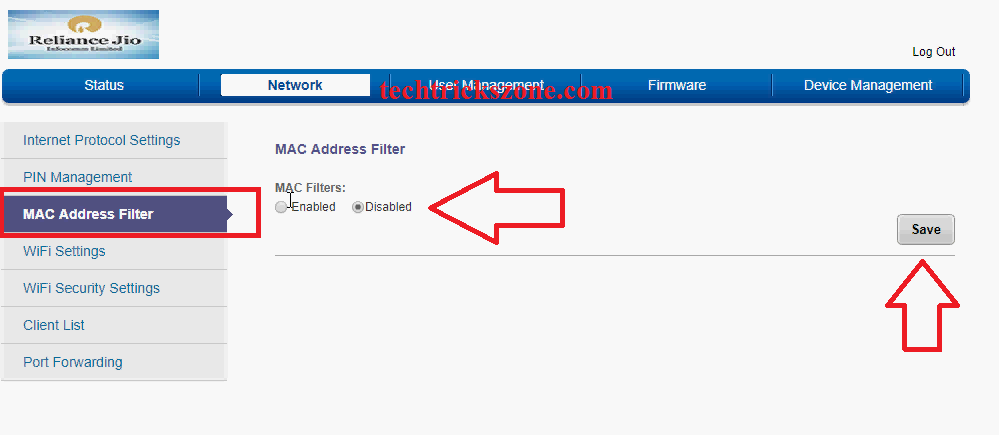 By Default MAC option is disabled in all jiofi hotpsot router. To enable it click on enable option and choose the option from list.
Allow only MAC listed

Block MAC listed
Allow Only MAC listed will only allow to user which MAC Address you added in this list.
Block MAC will deny the user from connecting Wi-Fi network which MAC address added in Block MAC list.
JioFi 4G hotspot WiFi user Connected Status.
You can also check the all connected WiFi user from inside your JioFi router in case you are using JIOFI M2S model. In this model there is no LED indication so you have to login router to check signal, wifi user and battery status.
Go to Network – Client List

In this list you can see WiFi user connect with MAC details. So you can manage your JioFi 4G hotspot router easily and can make protect from UN-authorize access.
Related Post
How to Change Airtel 4G hostpot router Default Wi-Fi Name and Password.