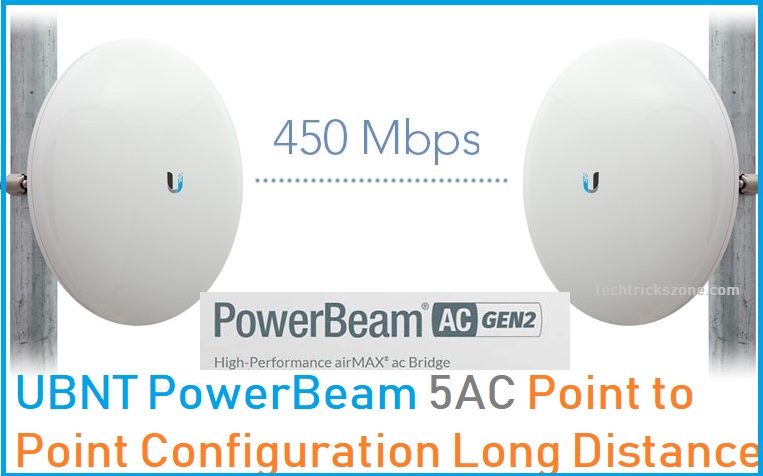 (Last Updated On: July 5, 2018)
UBNT Power Beam 5AC Point to Point configuration for Long Distance
UBNT power beam AC is high performance integrated inner feed wireless device for point to point and point to multi point solution. Power bream ac having multiple different range model depend on transmit power. As per UBNT official website power beam PBE-M5-620 can provide up-to 150mbps throughput on 30Km distance. UBNT power beam PBE-5AC-Gen2 can give up-to 450mbps wireless speed up to 25 Km air distance for point to point. In this post I will provide best user guide for UBNT Power Beam 5AC Point to Point configuration for Long Distance. With this UBNT power beam configuration manual you can configure all the power beam 5Ac model   point to point and point to multipoint settings.
Power beam 5Ac series loaded with latest AirOS 8 which can give you many parameter to control and manage point to point connectivity. UBNT power beam Ac series comes with 27dBi solid dish antenna which support inner feed radio like Ubnt Airgrid device. This post also can say UBNT Nano beam M5 400 point to point configuration as the Nanobeam also comes with airOS8 interface.
UBNT Power beam Point to Point Configuration and Setup.
To point to Point configuration required 2 device required. Both device will configure in different mode. Local side device will configure as Access Point mode and Remote side device will configure as client mode.
Site A Powerbeam 5AC Configuration on Access Point
Site B Powerbeam 5AC 500 Configure Client mode
See Also – UBNT airFiber AF5 Full Duplex 5Ghz Point to Point Configuration.
UBNT Power Beam 5 AC Connection Diagram
Use the PoE adapter comes with power beam device box to connect and power on device.
Connect Cat6 LAn cable from PoE Out port in Adapter to device Lan port. IN PoE adapter LAN port connect Laptop/Computer LAN port.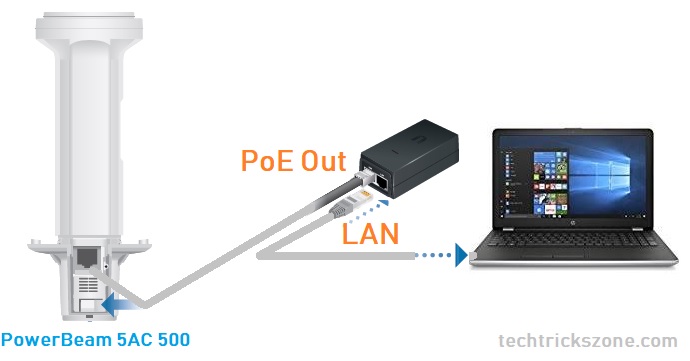 Power Beam 5AC airOS8 Login Device
airOS 8 is a firmware version and web interface of UBNT power beam 5AC radio.
Use your computer/Laptop LAN ip 192.168.1.10 or any other ( don't use 192.168.1.20 in PC LAN)
See here how to configure IP Address on Laptop/PC LAN
To login Power beam 5 ac device use the default IP 192.168.1.20
UBNT Power beam Login default username – ubnt
UBNT default login password – ubnt
Country – choose your country from list.
Language – choose your country language
I agree to these Term OF USE and the UBIQUITI FIRMWRE LICENSE AGREEMENT – check box this option and press Login button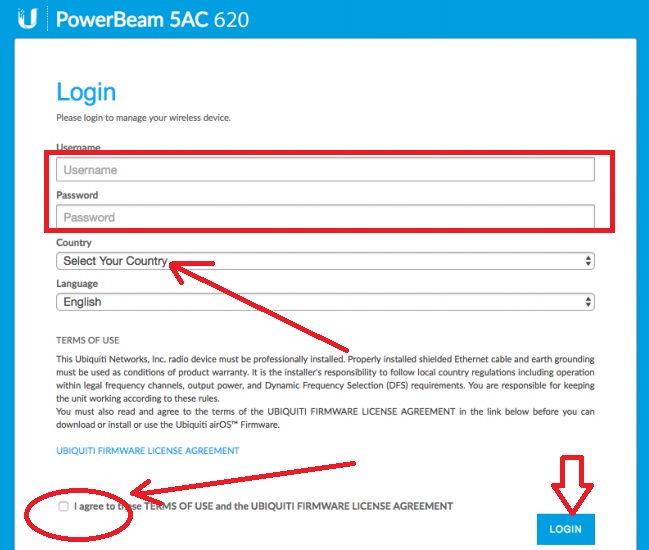 After login Power beam 5 AC 620 device now configuration will be both side Local side and Remote side one by one.
UBNT Power beam 5 AC Point to Point Access Point Mode Configuration.
For site A Power beam 5Ac device will configure as AP mode. To configure in Power beam Ac in AP mode follow the steps below.
Go to Settings gear on right side top
Click on Wireless tab from top menu.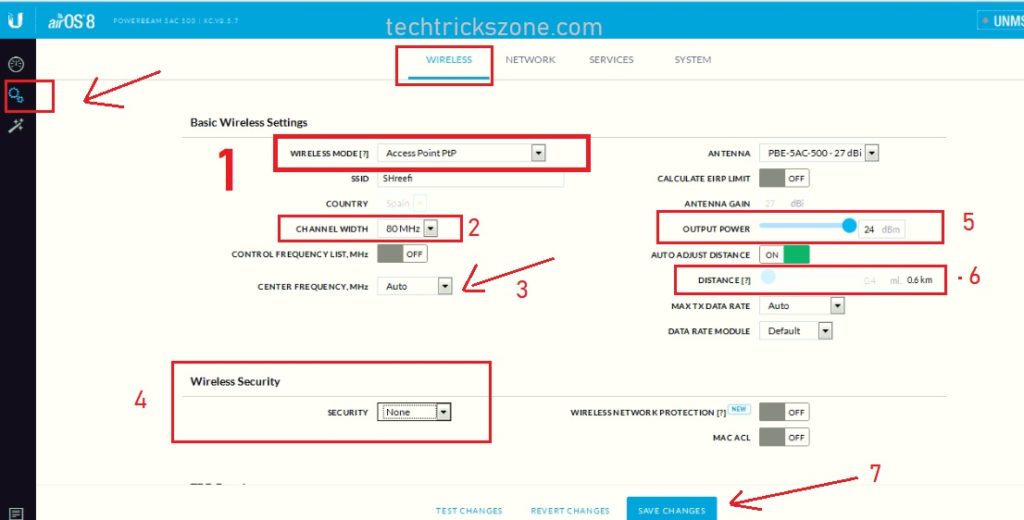 Now follow the setting according to picture one by one.
Wireless Mode – Access Point PTP
SSID– Type the Power beam network SSID name you want to use. This network name will use to identify to connect your location b client device connection.  (Use a unique name so you can easily find it)
2:- Channel Width – use the 40/80 MHZ according to area interference. If high interface recommended to use 40Mhz
3:- Center Frequency – use the frequency according to area interference .( use Wireless analyzer to find running frequency on your area)
Get free Wireless Analyzer tool here
4:- Wireless Security – use Point to point link security key here to protect your wireless Link.
5:- Output Power– if your point to point distance short than reduce the power accordingly.
6:- Distance– if you know the distance of your Point to Point distance than use the button to set distance here.
7:- After all the settings press Save Changes button to apply settings.
Related Post – UBNT UniFi Controller Software Setup and Configuration First Time
UBNT Power beam 5 AC LAN IP Configuration.
As all the device comes with default IP Address so change IP Address to avoid conflict when point to point connected.
To change IP Address Go to Network tab from top menu
IP Address– change IP in this box
Netmask- use as per IP series.
Press Save change button from bottom to apply settings.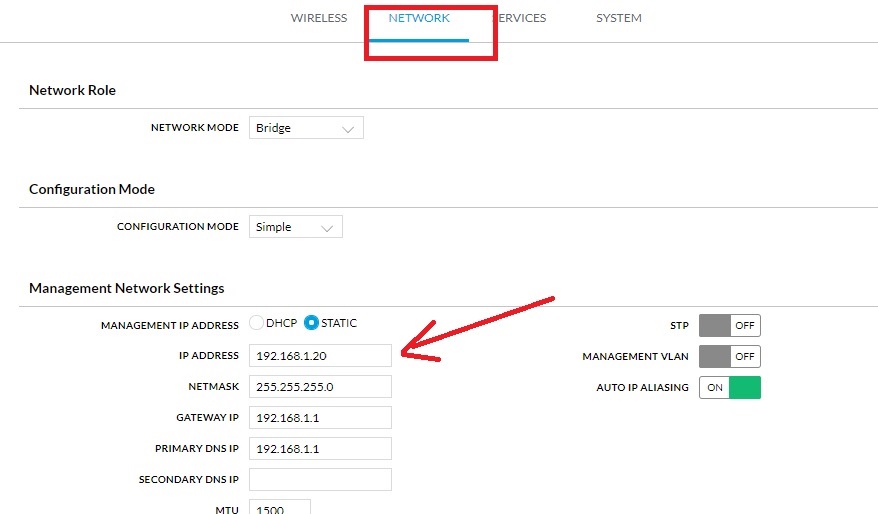 After changing IP address Power beam 5 Ac will access with new IP address. Now keep Access Point device on and connect second device for Client configuration.
UBNT Power beam 5 AC Point to Point  Client  Mode Configuration
Now site B device will be conjure as client mode. Connect the device as shown above network diagram and login.
        After Login Go to Setting gear –
        Wireless Tab
Wireless Mode – Choose Station PtP
Select – press select button to scan your Access Point device.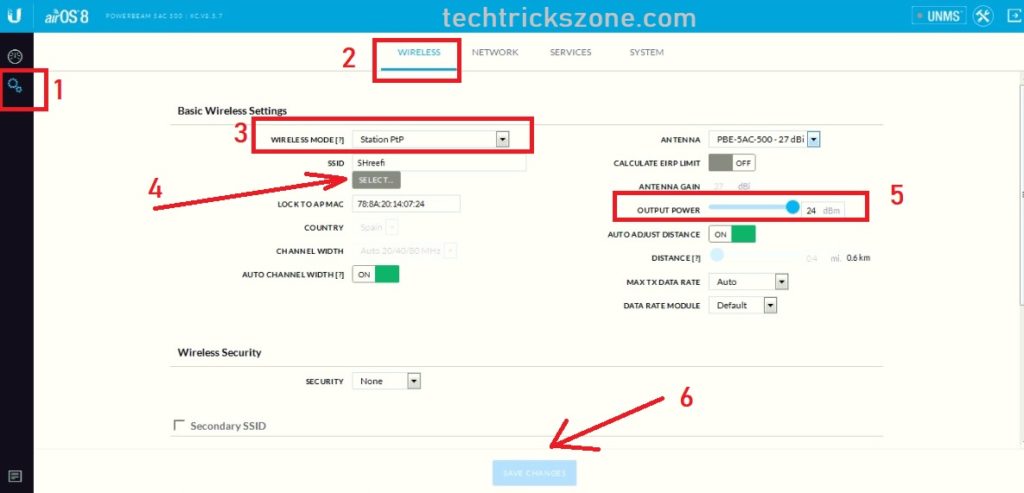 After Press select button you will get new windows with your Access point scanning details.
Select your Access Point name
If you don't find your AP name try scanning button to scan again .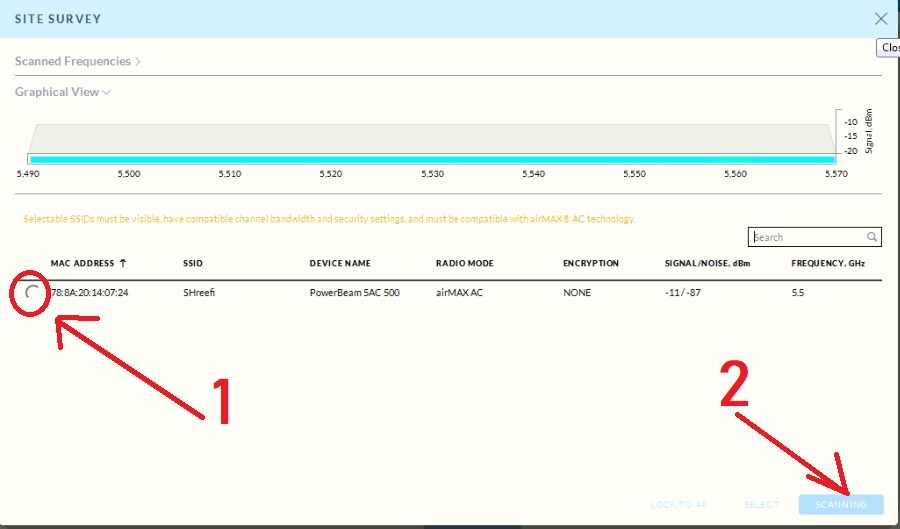 After select your Access Point name lock the Mac address.
Press Save changes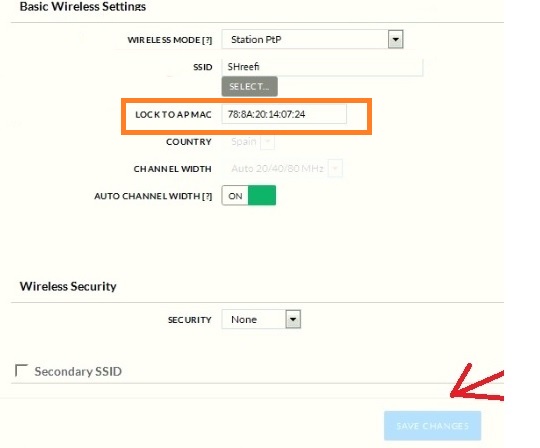 After Save changes device will reboot and take few second to ping again. Now re-login power beam device and see the connected status with signal strength.
Local RX DATA Rate – in this option you can connected status of Access Point device.
Remote RX data rate- this option will show remote site device signal strength and data rate.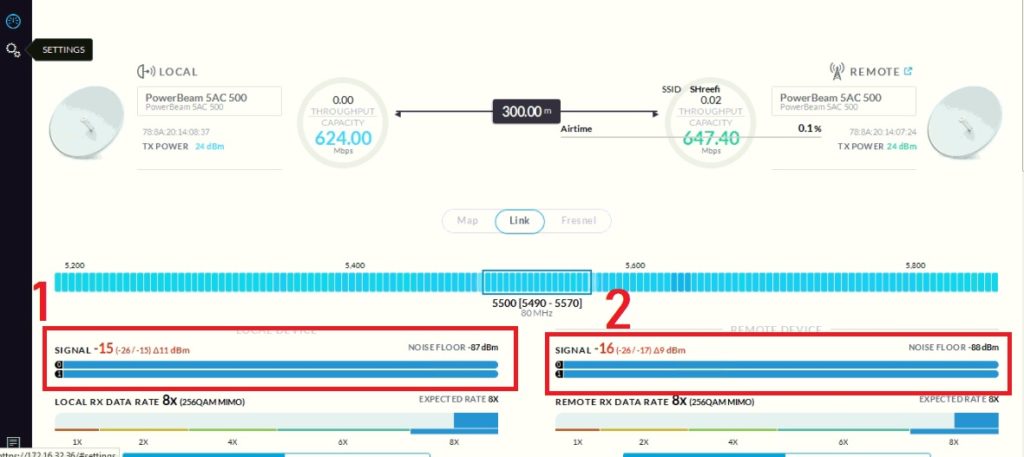 After This connected status your UBNT power beam AC device ready for installation at your location. But before going to install change the default password to make protect your point to point connectivity always.
UBNT Power Beam 5 AC 500 Firmware Upgrade Direct from Internet
Inside system tab you can manage your Power beam Ac device. See the step below.
1 – Power Beam 5Ac 500 Firmware Version – XC.V8.5.7
Build number – 38314
2—Power Beam 5AC AirOS 8 Firmware Upgrade- you can upgrade UBNT power beam airOS 8 directly from internet and by uploading firmware file.
 To direct up gradation from UBNT server configure the LAN with internet IP gateway and press check fo update button inside system option.
3—Device Model – PBE-5AC-500 ( see the your Power beam AC device model number )
Device name – PowerBeam 5AC 500
Interface Language- change the AirOS 8 configuration settings language with your country languge from this option.
4—External Reset button – enable Power Beam 5AC reset button from software. If External reset button will off you can not to factory reset UBNT Power Beam 5AC device from reset button on device.
5—Date set- change the date and time zone of device with this option.
After doing al the setting don't forgot to save change settings to apply.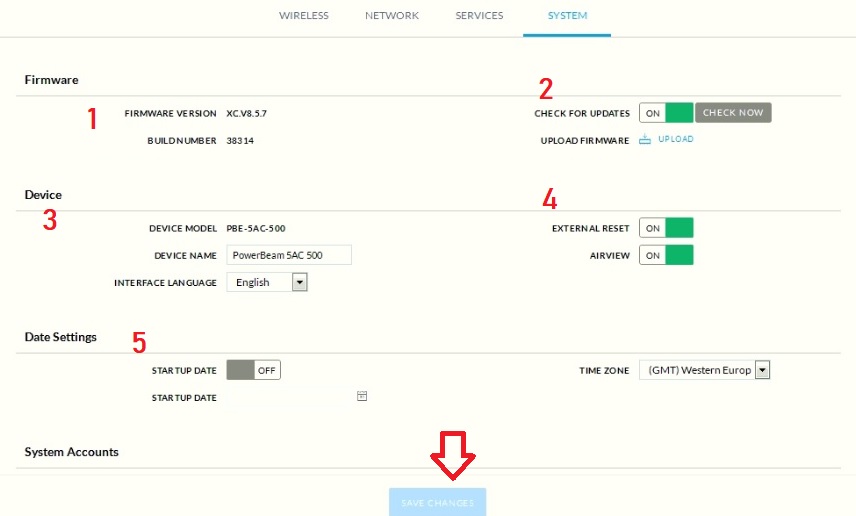 This is the basic user manual for UBNT Power Beam 5AC Point to Point configuration for Long Distance. Same configuration apply for power beam point to multi point configuration also. Just add the client configuration with site C device and repeat same configuration every location you want to add to create point to multipoint connectivity with your power beam 5AC device.
Related Post
How to use WhatsApp without Phone Number with Tricks (2018)
5 Best Long Range Wireless Point to Point Device for Internet and CCTV