Setup a Mac access control list in Netgear nighthawk and another router to Block User in Netgear and restrict internet access for unknown users.
How to Block User in Netgear WiFi router?
Netgear Genie latest router software installed in Netgear wired and wireless routers. Netgear network products are popular for home and office networking and used worldwide. If you are using Netgear signal band or dual-band wireless router at your home or office broadband connection then you must know security option that can enable to secure internet. During first-time NetGear router setup you may change the default WiFI SSID name and password but to keep wifi network protect you have more security features that can add an extra security layer to your network.
Mac Filter one of the best and secure ways to keep away unknown users from your internet connection either wired or wireless. In the Netgear wireless router and cable modem, you can enable the Mac access list on wireless to deny unknown Wi-Fi mobile device and under access control, you can block wired and wireless both devices to restrict internet access.
Setup Mac Access List on Wireless
Connect Netgear wifi router either using a wired connection or wifi connectivity.
Open Web browser and access http://192.168.1.1 or routerlogin.net or 192.168.O.1 login IP address.
Use default login username "admin and default password "password" to access Netgear settings.
Go to Wireless Option from the left side settings menu.
Advanced- Wireless Settings- Setup Access List

In the next step, press the Add button and add mobile/laptop WIFi mac address to the list you want to allow o deny to access WiFi internet.

You can add multiple device Mac address list those do not belong to your internet.
You can get all wired and wireless device connected router from the attached device list or DHCP client list for Netgear legacy router models.
Block Desktop and Mobile user Mac address in Netgear
You can block internet access for the wired and wireless users as per your choice from the Netgear router. You have to enable access control option to setup router blocking and unblocking mode for wired and wifi users.
This router print shot for Netgear R6220 AC1200 dual-band router setup Access control list for block users.
Go to Advanced- Security- Access Control
Turn On Access Control
Allow all new devices to connect – enabling this option will allow all new users either mobile, laptop, or desktop will allow using the internet.
Block all New devices from connecting- Enabling this option will block internet access for all new users that connect to the wireless or wired connection.

Block and Allow user Manually
See all the devices connected to the Netgear router inside the control list and also find Attached device under the Basic option.
Select the user and allow or block manually as showing above picture.
You can unblock and block users to access the internet any time from the access control list option.
Enabling Mac filter list a secure way to keep away unknown and unauthorized users from connecting wifi or wired internet. Also changing login password good habit to keep protect router web interface access.
How to Change Netgear AC1200 Login Password
Netgear routers are pre-configured with default login usernames and passwords that easily available at the official support website and also printed over to the router sticker.
Go to Advanced- Administration- Set Password
Old Password–  password (default is "password" if you already change use same as old password)
Set password– Create a new login password
Repeat New password– Type new password again to avoid mistakes.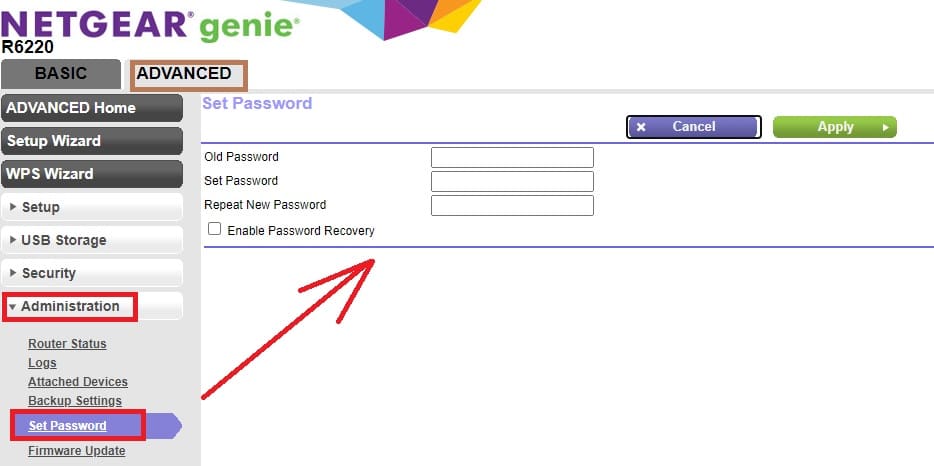 Press Apply button save settings and re-login router with new passwords.
Keep updating the login password after a few days to protect router access. Also, update router firmware to keep the performance of the router and fix other bugs in the router.
Related Post