Sparklight Router Settings Login from Mobile & PC
Looking for a user manual to login the Sparklight modem or first-time setup of the Sparklight modem or router required to access the web interface. If your internet working with a Sparklight Docsis modem or Gig WiFi modem using a Cat6 LAN cable it doesn't matter for login Sparklight router.
If you Sparklight internet or voice service subscriber then there is must be a Docsis modem or broadband modem installed at your home and it's configured in default settings. You always recommend changing Sparklight Wireless SSID and password before using to internet which will help it to secure your wifi as well as your data.
Sparklight support different brands of Cable modem such as Hitron, Motorola, or other third-party modem so the Login IP address and username password can be different for each modem. The login manual for Sparklight Hitron, or Sparklike Motorola modem is the same only the login username and password are different also printed on the modem sticker.
Although there are two ways to change the Sparklight wifi password one is the Online method from the Sparklight customer portal and the second method is by accessing the Sparklight modem web interface and change directly. Follow both the method to login Sparklight modem and Wireless broadband router from mobile, laptop, or computer.
Change Sparklight wireless Password Online Method
To change the Sparklight modem password online without accessing your modem you have to visit the customer portal at Sparklight's official website.
Connect your mobile, Laptop, or computer to the internet.
Visit "Online costumer portal"
Login Spraklight accounts with your username and password get from Sparklight when you subscribe for the internet.
Go to the "service" tab from the top menu.
Under the Service tab go to the Internet sub tab.
Internet- WiFi network
To view the password click Retrieve password and change the new password
Go to the "Change Password" option and create a new password.
If your modem supports this feature of online password change then it will apply to your wifi setting else you will get the message that the modem is not compatible.
If your modem is not compatible with TR069 or not updating your wifi password online then follow the next methods.
Before proceeding to change the login and other steps you must need the default login username and password for your Sparklight modem which can be different for Hitron, Motorola, or other brands.
Sparkligh Modem Default Username and password
Sparklight router settings and default login credentials for modem and router are printed to the sticker and it's not the same for each brand modem. If you have a Hitron brands modem then the username and password can be different from Motorola or any other third-party modem that is compatible with Sparktlight internet service.
Sparklight Default login IP address – 192.168.0.1
Default Username and password for Sparklight Hitron Modem –
Username- cusadmin
Password-  Mac address of the modem without using colon ( : ) – EXP- if Modem mac address is 44:E1:C4:00:89:EB  then your modem password will be 44e1c40089eb
The default username and password for Sparklight Motorola Modem
Default username- admin
Password- Motorola
The default username and password for third-party Modems
Username- admin
Password- password
 Use the login credential as per the router modems installed at your Sparklight internet connection and follow further steps to log in and change settings.
Steps to Login Sparklight Router and Cable modem
To Access Sparklight router settings directly from the router and modem connection required either wired or wireless using a mobile, Desktop, or Laptop.
You can follow the Login steps for the Sparklight router list as given above steps as well as any modem and router that is not listed here but compatible with Sparklight Internet.
Block Website and WiFi user in Arris Modem?
Follow the steps to change Sparklight Wireless settings.
Wireless SSID and password configured in default settings so it's easy to get and risk for your wifi internet. Follow the steps to change your WIFIname and password.
Go to Wireless Settings- Basic Settings.
If your Sparklight modem supports dual band you will get a 2.4G and 5G wireless settings tab.
Change Wireless SSID and password for both bands 2.4G and 5G one by one.
Go to Wireless- 2.4G
Wireless SSID Network name– WIFI name (change wireless SSID here)
Wireless Channel Auto– Auto
Wireless Security- WPA-Personal
Encryption Mode– AES
Password- Set a new WIFI Password for your Spark light WIFI.
Press the Save change button on the left side bottom corner to apply configurations.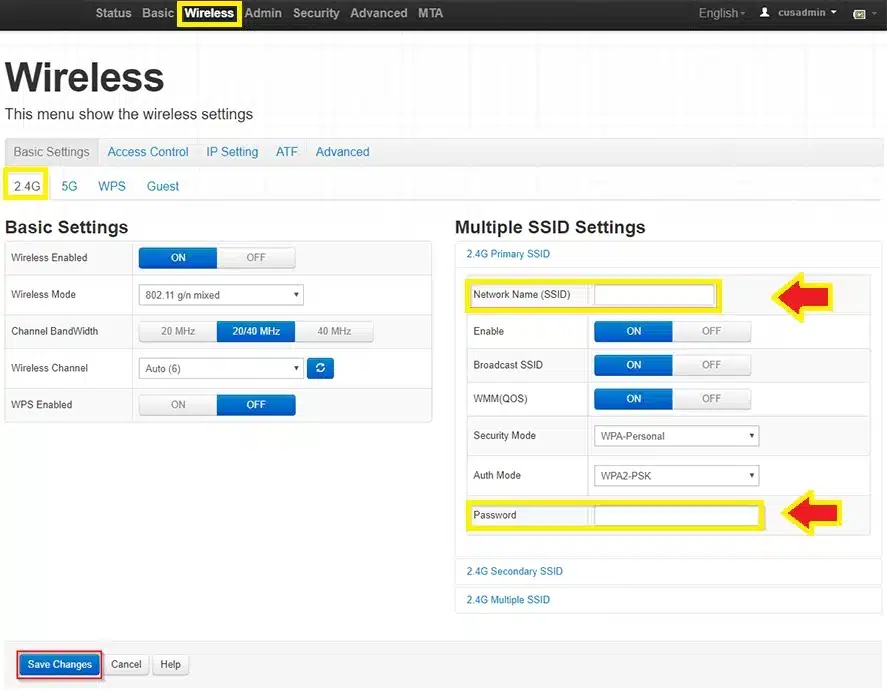 After 2.4G wireless settings go to the 5.8G tab and follow the same steps to change the 5.8G wireless SSID and password to protect both wifi bands.
Save settings and follow further steps to enable the WPS button on Sparklight, Change the Default admin login password, Enable content filtering, and other security features.
Changing only a WiFI password is not enough to protect your WIFI network so it is important to update the login admin password while setup the router or modem the first time.
Xfinity Router Troubleshooting: Common Issues and Solutions
Change Sparklight Admin Login Password
Changing the admin password settings option can be different for Hitron, Motorola, and third-party modems that are supported by Sparklight.
Go to the "Admin" tab from the top menu for Spark light Hitron.
Administration-
Management- 
Settings username and password.
Username- cusadmin
Old Password–  use the old password you used for login modem or find the default password pinned to the modem sticker.
New password– create a New login password
Confirm New password- Confirm new password.
Idle Time-  10 Minutes (default idle time is 10 minutes you can change it to log out your modem settings automatically when you are not active for a few minutes as you set idle time here.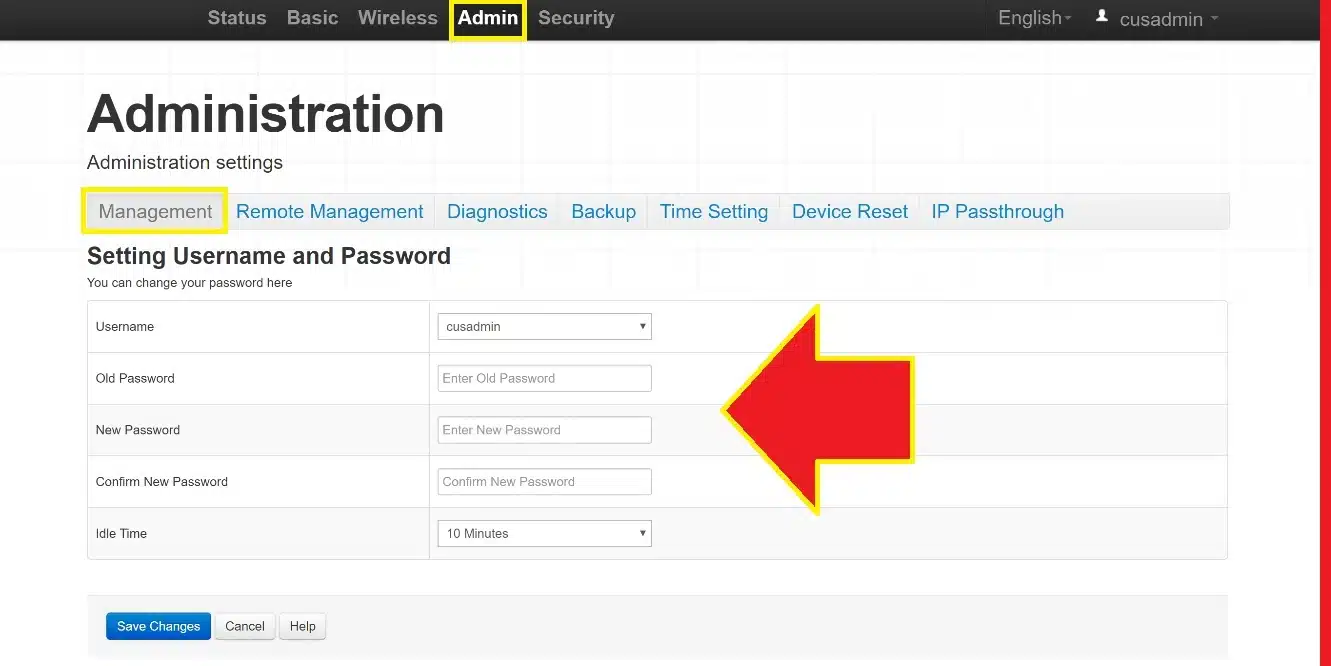 If you are facing any error on your Sparklight modem or are unable to log in due to the wrong username and password then you can factory reset Sparklight using the reset button and setup it up again as per your internet settings. You can also get support from the Sparklight support team to set up a modem for you if you not sure about your internet settings.
Related Post