OpenWrt Lede Point to Point configuration in bridge mode
OpenWrt lede is the latest release of firmware for various OEM hardware. You can get your router-supported Lede version from the official OpenWRT hardware table. I have already posted different mode configurations for OpenWRT such as repeater mode, wisp mode, client bridge mode. In this post, I will show how to configure OpenWRT lede point to point in bridge mode for CCTV and internet connection. The configuration of OpenWrt firmware is a little bit different in bridge mode so many people failed to configure it in pure bridge mode.in my personal view, it is the best OpenWRT router for home and office wireless.
Don't worry after ready this configuration manual you can configure OpenWRT firmware version point to point and point-multipoint. OpenWrt configuration manual just simple for you once you understand the steps and mode used in OpenWrt configuration. You can easily configure point to point with both OpenWRT and non-OpenWRT firmware after this post.i have created this tutorial with OpenWrt TP link router but the configuration for all Openwrt same.
OpenWrt Point to Point Configuration Steps
Before start configuration, I will give steps to follow point-to-point configuration and avoid any miss-configuration.
For point to point two location devices need to configure so steps will be the same for both side location devices as given below.
OpenWrt Device Login First time

LAN & DHCP configuration

OpenWrt Wireless Mode Configuration
Point to Point Location A device Configuration
Ready your both OpenWrt device to proceed with the configuration.
Login Device.
OpenWrt Default IP address is 192.168.l.1 and username –root, password blank on default.
Connect device and open http// 192.168.1.1. to the browser.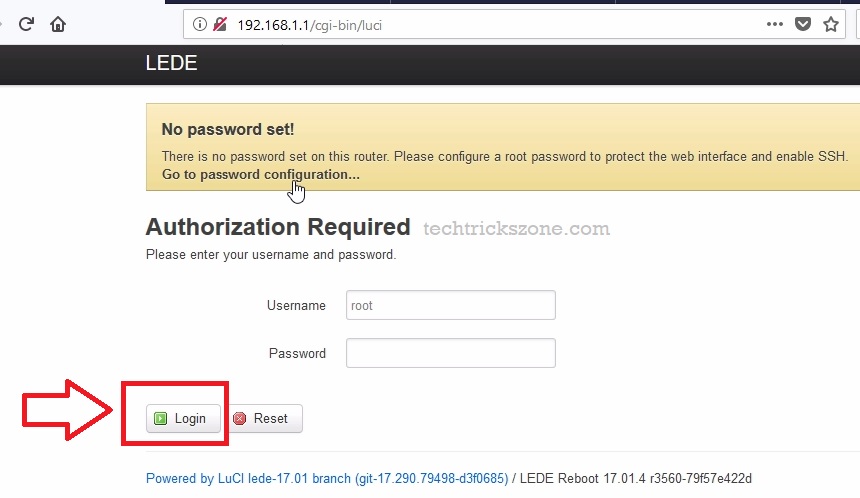 2:- Openwrt Lede LAN & DHCP configuration
Point to point configuration used to connect 2 different site wirelessly. So we also required 2 wireless radio to connect both sides. OpenWrt lede comes with the default IP address so it's necessary to change the default IP address to avoid network conflict issue.
To change IP Address Go to Network –Interfaces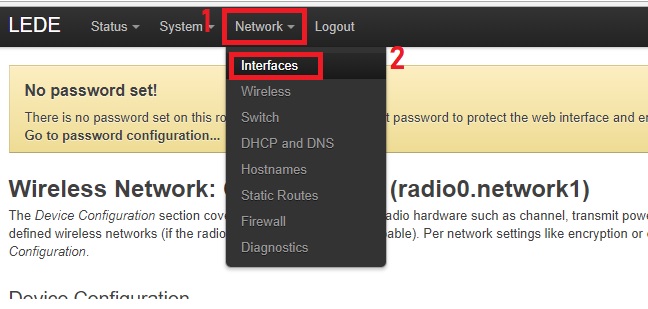 Click Edit on LAN and change IP address and disable DHCP server

3:-OpenWrt Lede Access Point WDS mode Configuration for PTP.
Now first site device will be configured as Access point WDS mode. OpenWrt point to point work as AP and client device for both sides. So see AP WDS configuration for site A.
To configure Wireless
Go to Network- Wireless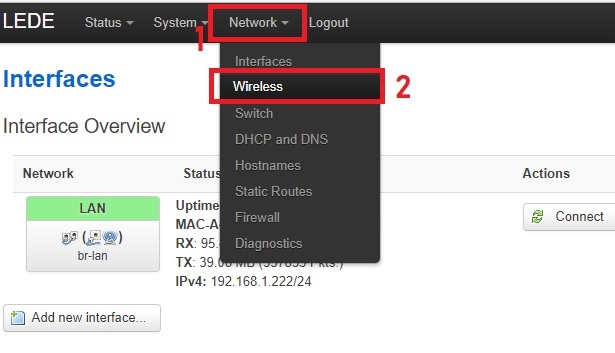 Click the Edit button in the wireless interface.

Device Configuration
The wireless network is disabled – Click Enable button first ( button should show red button )
Model- N, Channel – choose -11 or any other, Width- 20 (use 40 if non-interface area)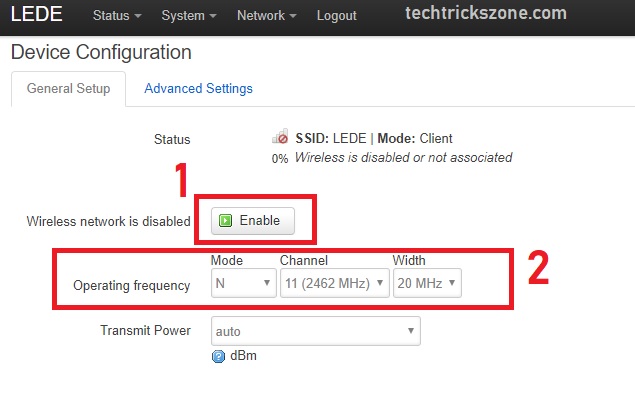 Interface Configuration
ESSID- user your Network SSID name here (use a unique name which can find easily in multiple network name)
Mode- Access Point WDS ( choose Access WDS mode)
Network –choose LAN
Save & Apply to save settings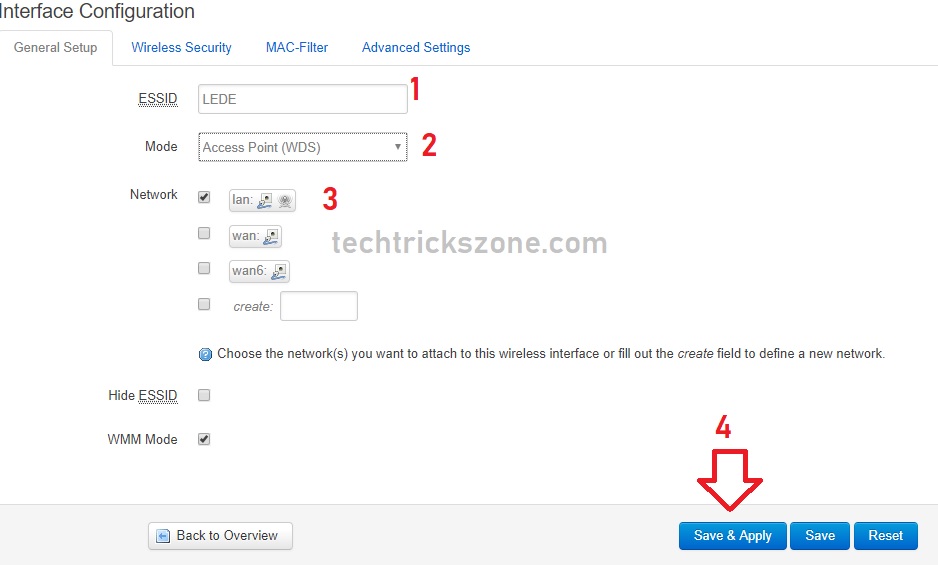 OpenWrt Lede Wireless Security configuration
Click the Wireless Security tab from the interface configuration
Encryption – WPA2PSK recommended
Key – type your wireless password ( this password will use to connect client device)

After configuration Access point now second location device configured as client WDS mode.
Location B Configuration–
OpenWrt Lede Client WDS configuration for Remote Location
Login OpenWRT second device as shown above steps.
Disable OpenWrt DHCP server for Point to Point bridge mode
OpenWrt Client Mode
Now Go to Network- Wireless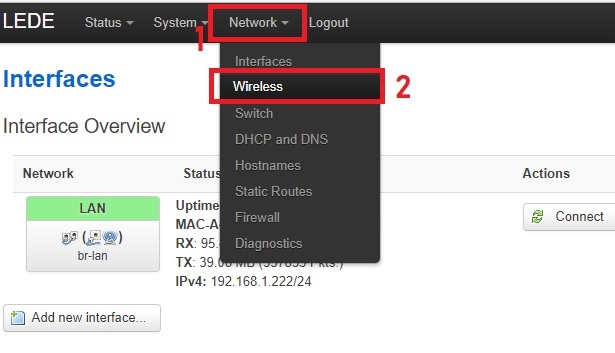 Click Scan button to find your Access Point SSID.

You will find many wireless network names while scanning outdoor. Find you network SSID and click Join Network

In the next steps, you need to type the Wireless password you configure in Access point mode.
WPA passphrase- type password here
Name of the new network- you can type any name here to recognize your Ethernet,
Choose LAN in these steps ( LAN will be selected for bridge mode )
Submit the setting after all settings.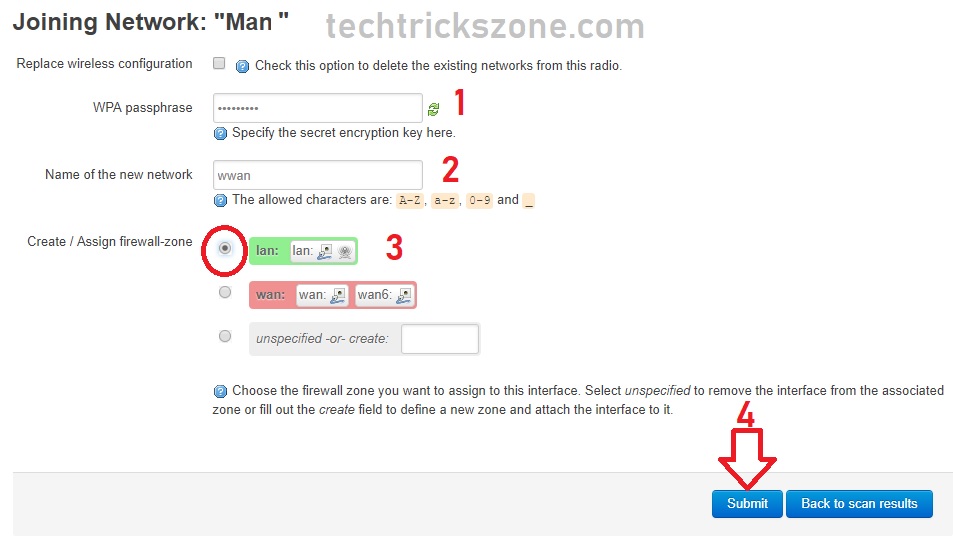 This step is very important to configure OpenWRT in bridge mode.
Mode should be Client WDS for bridge
Lan select
Click save and apply for saved settings.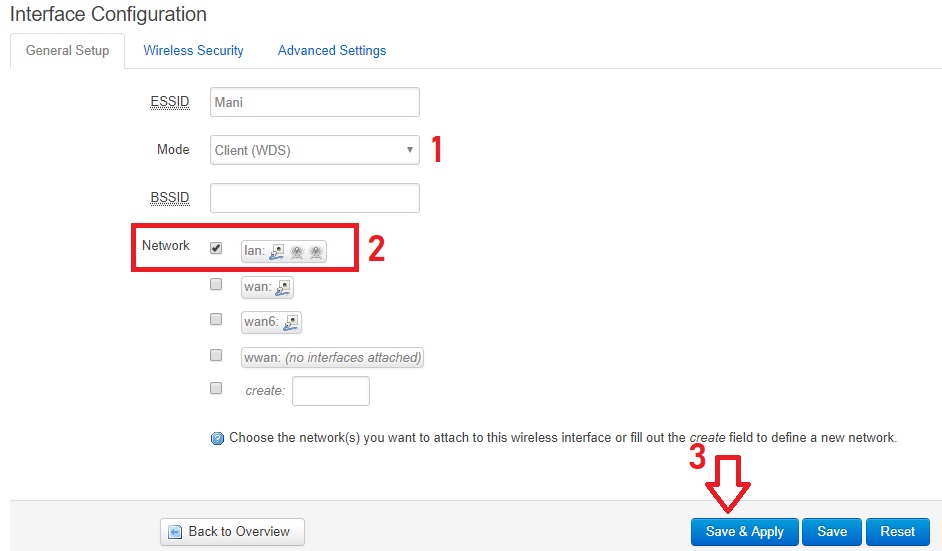 After settings saved your device will be connected to the Access point device and you can check signal status on the Wireless option.
In status, you can see remote device Mac address signal with noise.
You can see the connected RX rate and TX rate here.

This manual also supports all the OpenWRT versions like OpenWrt Luci,  OpenWRT chaos calmer, Attitude adjustment and OpenWrt LEde.
OpenWrt Lede Point to Multi-Point Configuration
to configuration OpenWRT point to multipoint just repeat the steps Openwrt client WDS configuration for 3 (third) OpenWRT device for the multipoint. you can connect multiple OpenWrt client devices to the Access point device.
Related Post