Login TP Link Archer C24 to Setup First time
TP-link C24 Ac750 Mbps dual-band wireless router with 4 External Omni direction antenna for home broadband internet. C24 dual-band router support 3in 1 wireless mode to setup the router as a requirement. You can setup TP-link Archer C24 range extender mode to boost wifi range, Access point to turn your home into a wifi hotspot, and router mode for connecting your internet connection.
Archer c24 latest WiFi router launch of 2020 for internet plans up to 100Mbps. Although the C24 router support 750Mbps wireless speed due to the limitation of Ethernet port 100Mbps speed it can support internet speed up to 100Mbps via Wired.
This article provides you a simple user manual to login TP Link archer c24 dual-band wireless router for first time setup in router mode. You can log in c24 router either using a wireless connection or wired connectivity.
You can also set up a C24 Router without a computer using TP-Link tether apps from android and iPhone with a few simple steps. TPlink free apps to manage and setup all your TP-Link devices.
C24 WiFi router connection Setup
TPlink c24 router mode required to connect internet cable to WAN port so use router mode if you want to connect the router directly to a broadband cable modem to turn the internet into wifi.
Connect internet cable from internet provider or Cable modem LAN port to C24 WAN Port (Blue).
Connect your computer/ Laptop/ NVR and any other network device to LAN ports(Yellow).
For configuration router, you can use the default WiFi SSID name and password printed to router label for wifi connection and a LAN cable to computer LAN port for wired connections.
Make your computer/laptop LAN IP address settings to DHCP mode.
Login TP-Link Archer C1200 Gigabit wireless Wi-Fi Router
Default Login setting for Archer c54
Default Login TP-Link Archer C24 access for web interface can use URL or IP address.
C24 Login URL– tplinkwifi.net
Login IP address- 192.168.0.1
Default username- NA
Password– need to create during the first time login of the router.
Login TP-link c24 to web browser
Open a web browser and access http://tplinkwifi.net or http://192.168.0.1 to the URL bar and wait a few seconds until the router login page load.
In default mode, there is no login password configured in C24 router so you need to setup a login password during the first time setup to secure router access.
Create an administrator password
New Password– create c24 login password
Confirm password– type new password again.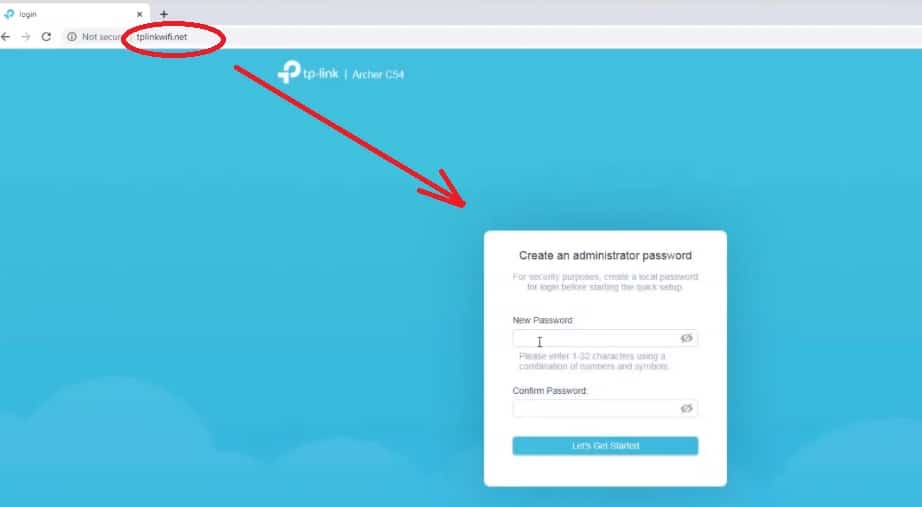 Press lets get started button to start setup wizard to router wan, wireless, and other configurations.
Setup wizard an easy way to setup router step by step for non-tech people.
Step 1: Choose your country from the list
In this first step, you will get the option to choose your country time zone for your router. Select your country and press the next button for Internet WAN configurations.
Step 2: Setup WAN Internet settings
Internet WAN settings type depend on your service providers, choose your internet type from PPPoE, Static or dynamic as supported your internet connection. Ask your service provider to get IP address detail for static and username and password for PPPoE internet type.
Select from
Dynamic
Static
PPPoE
L2TP
PPTP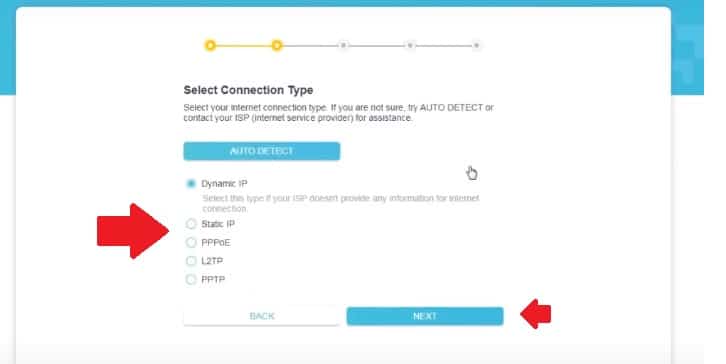 Press the next button and provide settings details as supported internet type.
After internet WAN settings next steps setup Wifi name and password for your Internet.
Step 3: Wireless SSID and Password settings
TPlink ac750 dual-band router preconfigured with default wifi SSID and password that also printed tor router sticker and user manual comes with the box.
Create a new Wi-Fi name for 2.4G and 5G band and choose a strong wifi password as well.
In the next steps, you will get wireless settings where you can change the WiFi name and password as per your choice.
Personalize wireless settings
2.4 GHz – Enable
Network Name (SSID) – TP-link_3068 (change default SSID to new WiFI name as per your choice.)
Password- create 2.4GHz WiFI password
2: 5Ghz Wireless Settings
Network Name (SSID) – TP-link_5G (change default SSID to new WiFI name for 5G band as per your choice.)
Password- create a 5GHz Wi-FI password.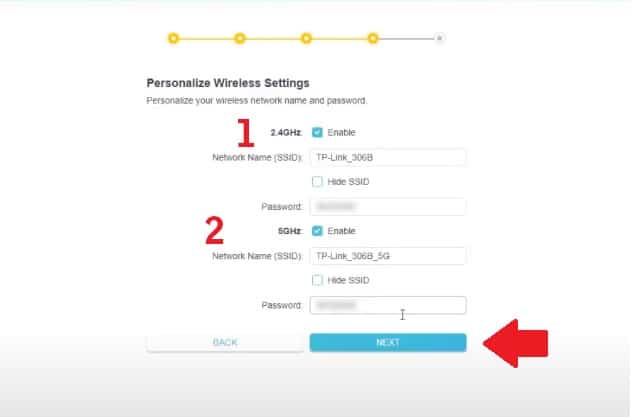 Press the Next button and wait while applying settings and checking internet connection status.
Once all done press the finish button to close the wizard and check the internet should work with New Wi-FI name and password.
TP-link Archer C24 Login Problem – Troubleshooting
Facing login issue while login router settings to a web browser and getting error site can't be reached. Login problems can occur due to incorrect network configuration and accessing the wrong IP address.
Tplinkwifi.net not working
Unable to login router settings with tplinkwifi.net problem comes when your pc/laptop in the different networks so follow steps to fix the login error.
Make sure your computer/laptop LAN TCP/IPv4 settings in DHCP mode to get the IP address from C24 router DHCP server.
THE Computer LAN port should connect to the router LAN port.( Not WAN Port)
Try to connect the router using TPLink tether apps from mobile.
If your router already set up with the internet but unable to access the router settings page with URL and IP address you should make a router factory reset.
Note: A factory reset will erase all configuration from the router so only use the reset option if you have all configuration or config backup to restore settings again.
Steps to reset TPLink C24 Router
 Locate a small reset button beside LAN ports.
Press and hold the reset button for 10-15 seconds until router led blink together.
When LED light blinks together router will restart.
After rebooting check default login access should work and set up again as per your internet settings.
Related Post