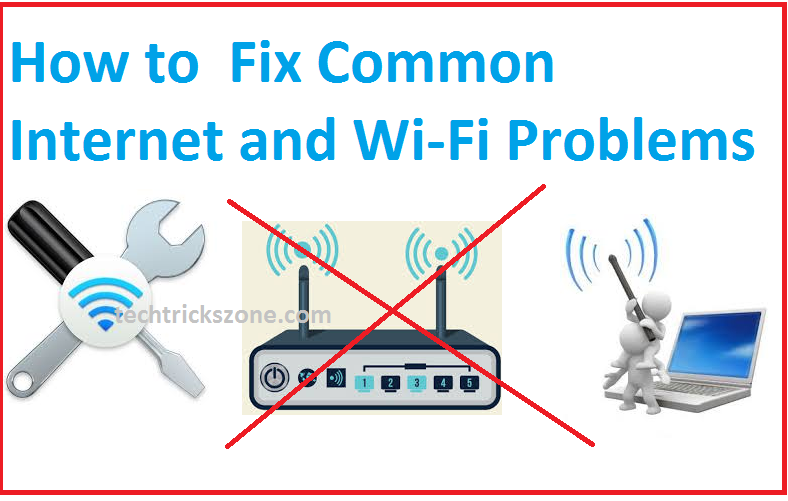 (Last Updated On: April 16, 2018)
Internet one of the most important thing of human life today. Everyone spend more the 15 hours every day on internet. Smart phone change the way of life and it cannot possible without internet. For anyone it's hard to spend 30 minute without internet connectivity, so it's become horrible moment when our home internet suddenly stop working. There are many common problem generated in home internet with some configuration.10 common Wi-Fi and internet problems can be solved with basic troubleshoot without any expertise in networking.
if you are also a victim of your home Wi-Fi and most of time fight with you home internet problems due to lack of information. You are on right place now where you will get the permanent solution for common issue of your internet and Wi-Fi connectivity.
10 Common Wi-Fi and internet problems comes with everyone.
To find the solution of internet and Wi-Fi problem we must understand about the issue. I have create a list for common Wi-Fi and internet issue faced by most of person who is not belong to technical side.
Wi-Fi connected but internet not working
Wi-Fi disconnection on some room or area at home and office.
Internet speed OK on wired but slow in Wi-Fi
in windows showing Wi-Fi signal with Red Cross
Wi-Fi not connecting some mobile or Devices
In android or I phones showing saved Wi-Fi connection.
Authentication problem on mobile
Wi-Fi frequent disconnection.
Internet stop suddenly required router reboot to work again.
Wi-Fi connection issue on I Phone.
1:- How to Solve Wi-Fi connected but internet not working.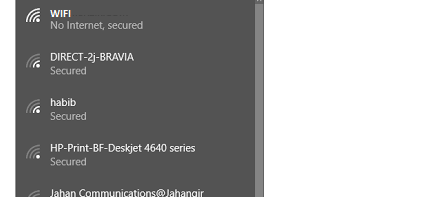 This is the most common and basic problem in home and office internet and Wi-Fi. This type problem comes due to internet reaching to your Wi-Fi router or modem. This issue comes when router providing IP Address to mobile and Windows user but internet not connected from ISP.
Solutions–
1:- To solve no internet in windows 10 and android mobile you have to check first your modem or router WAN port plugged with internet cable coming from your service provider.
2:- check the mobile or computer Wi-Fi or LAN propertied it should be in DHCP mode to get IP address from routers.
After fix both above issue if still facing no internet contact your internet service provider for internet down problem.
2:- Wi-Fi disconnection on some room or area at home and office.
Wi-Fi connection disconnected on particular room is also common issue for every internet users. Disconnection issue on some area due to wrong placement of Wi-Fi router at home and office. And also can be disconnection issue due to low power Wi-Fi router.
Solutions-
1:- To solve Wi-Fi disconnection issue at some room in your home and office area is required right placement of your Wi-Fi router. Just move the Wi-Fi access point to middle area from where ever room distance can be equal
2:- If your home and office area is larger than you desktop Wi-Fi router is not enough for you. Buy some long range and high power access point to get excellent signal strength to each and every corner.
Contact for High Power and long rang Wi-Fi access Point Now
3:  Internet speed OK on wired (LAN) but slow in Wi-Fi.
This problem is also consider like" how to get same internet speed on wire and Wi-Fi connection. It's most faced issue by everyone who is addicted internet users. Wired internet connection is always better but everyone required freedom of binding a particular place to use internet. To keep in mind your freedom we will gives you solution for how to get same speed on LAN and Wi-Fi both.
Solutions –
1:- If you are getting proper speed in wired but slow in Wi-Fi than do the basic configuration check in your Wi-Fi router.
Login you router with IP Address and go to Wireless settings-
Check the Channel should not be Auto mode- use (1,6,11 Chanel )
Change channel width 20MHz to 20/40 or 40 MHz only according to setting available in router.
Wireless Advance- increase the TX power if it's not full as per Access point capacity.
See here how to configure you wireless router to get full internet speed on Wi-Fi
4:- In windows showing Wi-Fi signal with Red Cross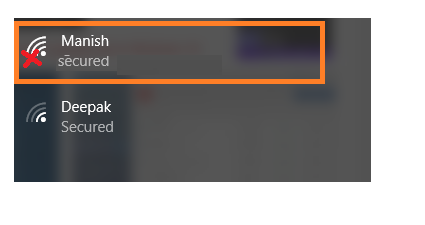 If you are scanning your Wi-Fi in Windows 10, Windows 8 and Windows7 PC but showing Wi-Fi name with Red Cross mark than see the solution here. Firs understand why this problems comes. When windows PC connected connect to Wi-Fi it's saved in windows wireless connection. But when same Wi-Fi name show with different password than its miss match on windows saved Wi-Fi database and its show red cross.
EXP– you have connected WiFi name Techtricks in your office Wi-Fi with password 1234578   and you moved to your home and your home wifi name is same Techtricks but password is 0987654 than in this situation you will get Wi-Fi signal with red cross. See the solution how to solve Wi-Fi red cross signal mark in Windows PC.
Solution –
To solve Wi-Fi red crose problem on WiFi signal first we need to remove saved same Wi-Fi name in Windows wireless saved connection. To remove follow steps given below.
Click on WiFi Icon – go to Network settings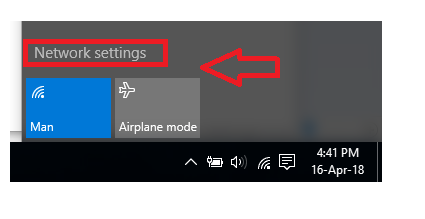 Click on Manage Wi-Fi settings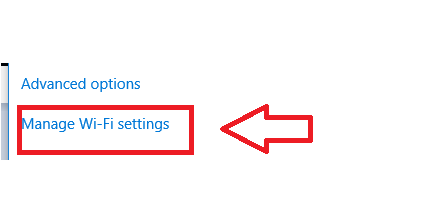 See the Saved Wi-Fi name in Manage Wi-Fi settings
Find your Wi-Fi name click on name and forget it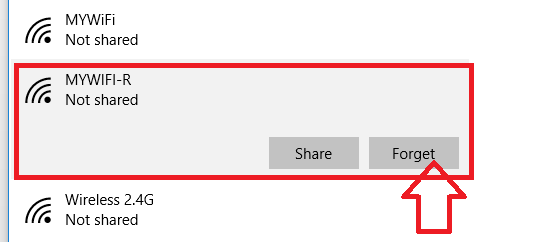 After forget Wi-Fi name again check the Wi-Fi signal should show without red cross mark and its should ask for Wi-Fi password.
5:- Wi-Fi not connecting some mobile or Devices
IF  Wi-Fi cannot connecting on your some mobile like Android and I Phone different models.  Don't be panic see the solution to "solve Wi-Fi not connecting on some mobile device".
Solutions –
1:- Change the Wireless security with mix mode WPA/WPA2 – PSK AES  and try connect same mobile again.
See how to change WiFi Password in Access Point here
 2:- If you facing not connection issue in windows or MAC OS than try updating WLAN driver from official website of brand you are using.
3:- Updated mobile phone Android to latest update to fix WiFi not connection issue in smart phones.